John Patrick Hayden recalls his first encounter with Charles Stewart Parnell.
Mr John Patrick Hayden from Mullingar was a nationalist politician who served as a member of parliament in the House of Commons for South Roscommon from 1897 to 1918. Mr Hayden also founded the Westmeath Examiner newspaper in 1882.
He was an active campaigner during the Land War of the 1880s and supported Charles Stewart Parnell during the split in the nationalist movement in 1890.
John Patrick Hayden died in 1954.
In this recording from 1950, Mr Hayden recalls the first time he saw Charles Stewart Parnell, leader of the Irish Parliamentary Party and the Home Rule League. He first saw Parnell in 1878 at a meeting in county Roscommon and subsequently at various meetings over the next number of years. Mr Hayden was still a teenager and says that Parnell made a wonderful impression on him.
He made a wonderful impression on me as a clear speaker with a voice far reaching.
He describes Parnell's speeches as clear cut with no unnecessary verbiage. Mr Hayden believes that in order to understand the extent of Parnell's achievements, the present generation must understand the context at the time in the country.
Every position of power and authority in the country was held by people averse to the national aspirations of the people.
He goes on to describe the land system at the time as "the worst in the world" whereby the farmers were at the absolute mercy of the landlords. They could face eviction at short notice without reason. Mr Hayden says that this situation was changed by the agitation movement of Charles Stewart Parnell. The act of 1881 established a Land Commission which created dual ownership which eventually led to occupying ownership.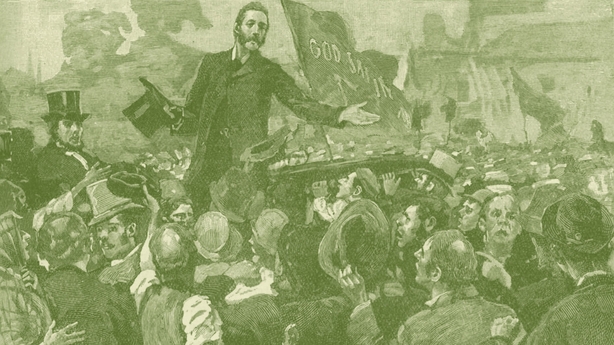 Charles Stewart Parnell addressing anti-rent meeting (Getty Images)
After the split of 1890, Mr Hayden went from being an admirer and supporter of Parnell to having close personal contact with him.
'Parnell and the Parnellites' was a programme of impressions recorded by some of those who knew or saw Charles Stewart Parnell. Presented by Norris Davidson.
Recorded on 18 September 1950.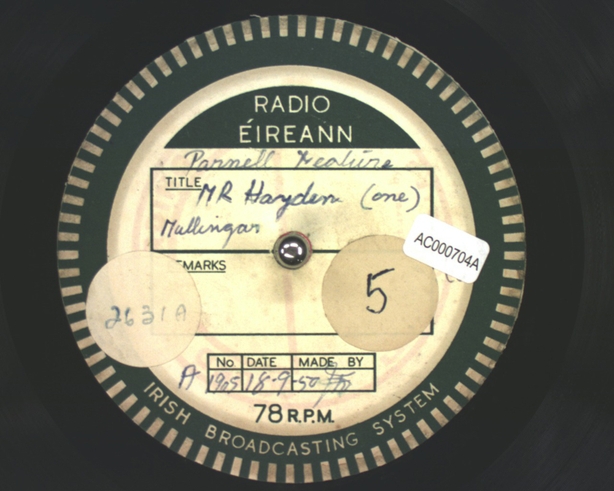 Parnell and the Parnellites, 1950 (QAC000704A - Acetate Disc Collection)
From the RTÉ Archives Acetate Disc Collection which has been digitised with the support of the Broadcasting Authority of Ireland (BAI) Archiving Scheme.