Theatre by Salvador Dalí, bull fighting and the living folk art that is flamenco a look at the culture of Madrid.
Tuesday Review takes a look at the arts in Spain's capital city of Madrid.
In 1949, artist Salvador Dalí undertook a stage production of 'Don Juan Tenorio'. The drama was written by José Zorrilla in 1844. This production, staged in both 1949 and 1950, was directed by Luis Escobar and Huberto Pérez de la Ossa, the former commissioning Dalí's work in surrealist stage design and costume.
A kind of a miracle you could never hope to have repeated.
The costume and decor were very much the centre piece of the production. From the moment the curtain rose, the production was spellbinding.
An interior in a dream with all its homely furnishings ever so slightly distorted and the seated figure bent over the corner table writing resplendent and threatening and blue and scarlet like a great cock.
Only one flaw was spotted when an actor playing a ghost bent his head to pass through a curtain.
Don Juan Tenorio is considered a highly moral play and is performed only around All Saints' Day (Día de Todos los Santos).
In general, Madrid plays tend to be of the before 1914 light comedy type. Theatre goers who want to see anything less conventional must be associated with one of the many theatre societies who present productions that would not be shown in commercial theatres. However, these productions are often quite amateur.
Sometimes the play is worth it. More often, not.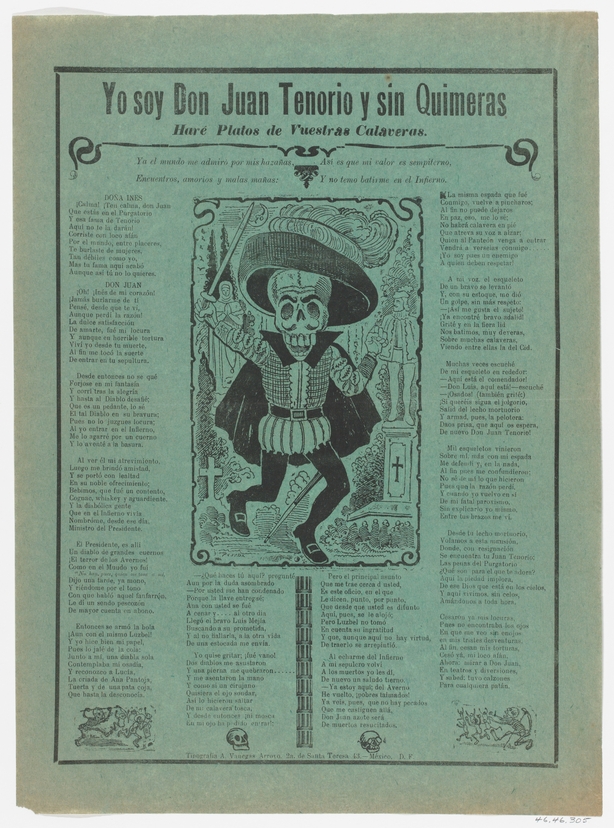 Photo by Heritage Art/Heritage Images via Getty Images
The skeleton of Don Juan Tenorio, circa 1900-1910. Artist José Guadalupe Posada.
According to the review, one saving grace to the mediocrity in the theatre is in the arena of the bullfighter. Ignoring any of the ethics of bullfighting, reviewer Noelle Middleton says,
I can simply say that I enjoy it unreservedly when it's good and that when it's bad, it can be stupidly cruel and boring.
This year has witnessed the rise of two new young trainee matadors.
Each tries to outdo the other in grace and daring.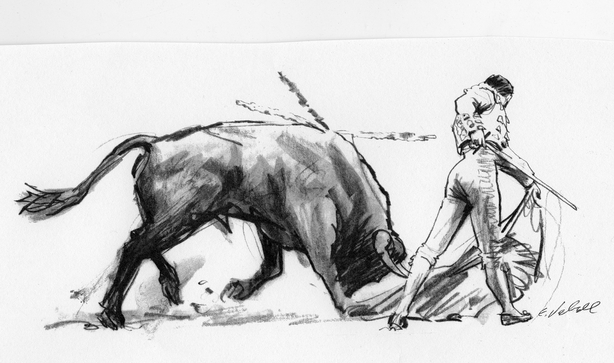 Illustration by Ed Vebell/Getty Images
A drawing depicting Matador (bullfighter) and bull during a Bullfight circa 1950 in Spain.
From Bullfighting to Flamenco.
What makes Flamenco singing and dancing unique in Western Europe is that it is a living folk art.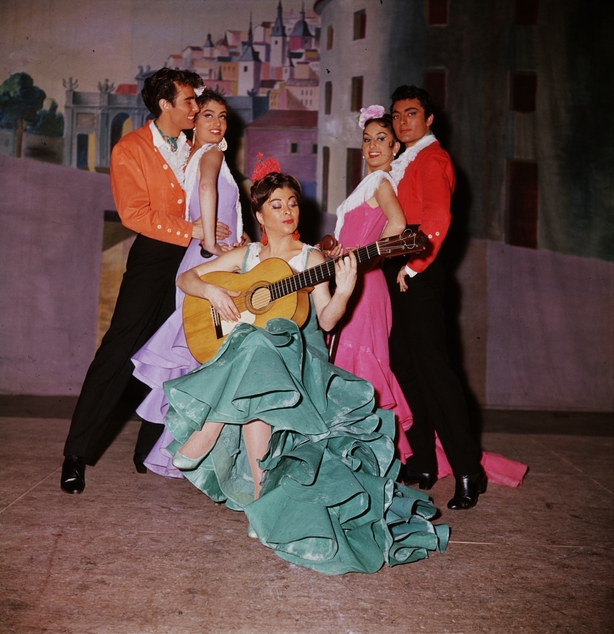 Photo by Paul Almasy/Corbis/VCG via Getty Images
Dancers from Pilar Lopez's dance troupe perform the Flamenco to the Spanish guitar at a cabaret.
Fans of traditional Irish music should find a connection with Flamenco in the natural poetry of the lyrics and the unconventional notation.
While Madrid is the capital, it has little influence over other parts of Spain and real, unspoilt Flamenco can be found in southern Spain in cities like Seville.
'Tuesday Review' broadcast on 17 August 1950. The reporter is Noelle Middleton.
'Tuesday Review' provided a weekly review of art, literature, music, theatre, film and fashion in Ireland.
From the RTÉ Archives Acetate Disc Collection which has been digitised with the support of the Broadcasting Authority of Ireland (BAI) Archiving Scheme.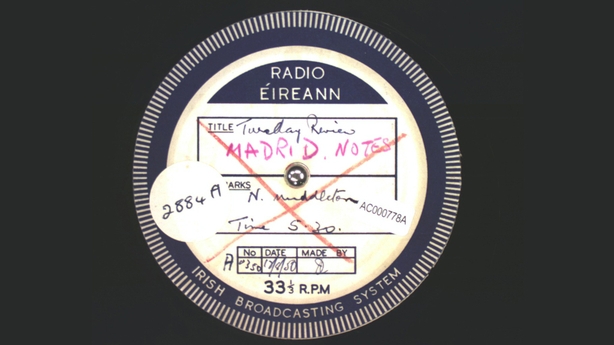 Acetate Disc Collection: Madrid Notes (1950)