An introduction to the records of John McCormack by Countess McCormack.
Countess McCormack (Lily Foley McCormack) introduces a selection of records by her late husband the tenor John McCormack on the fifth anniversary of his death.
Born in Athlone in 1884, tenor John McCormack was a renowned vocalist famous for his breath control. He made hundreds of recordings, some of which are introduced here by his wife Lily.
To all the dear friends and admirers of my beloved John, who through the courtesy of Radio Éireann are with me tonight to pay tribute to his memory on this his fifth anniversary, I wish to say how happy I am to be here and to have been invited by Radio Éireann to give this programme.
In her introduction to the programme, Countess McCormack explains that she will endeavour to select the records by which people will remember him best as well as some lesser known records.
In 1903, the relatively unknown singer caused a sensation at the Féis Ceoil in Dublin taking a gold medal. Lily pays homage to the late Dr Vincent O'Brien who trained John for the competition and introduces 'Snowy Breasted Pearl', the final song performed by John McCormack in the Féis Ceoil. After his performance, the audience rose to their feet in applause and judge Luigi Denza declared,
I do not need to tell you who has won. You have chosen him yourselves.
Lily first saw John perform in Dublin in a performance of 'Faust' sponsored by the Dublin Operatic Society. Introducing the recording, Lily explains that it is pre-electric and as such the quality may not be as good as recordings we are accustomed to today.
When John was trying to make a name for himself in the early days in London, he sang one night at the Sunday League Concert accompanied by Charles Marshall. Charles wrote the song 'I hear you calling me' which John sang at an Arthur Boosey Ballad concert and became a sensation overnight.
John McCormack was honoured and decorated for his musical career and in 1928, he received the title of Papal Count from Pope Pius XI in recognition of his work for Catholic charities.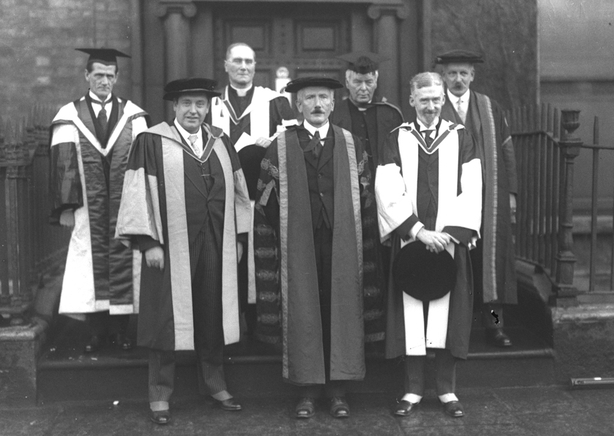 In 1927, he received an Honorary Doctorate Degree at UCD for his contribution to Irish music. Pictured here (first on left) with Dr Denis Coffey, Thomas Bodkin, John F Larcet and Rev T Corcoran.

He died on 16 September 1945.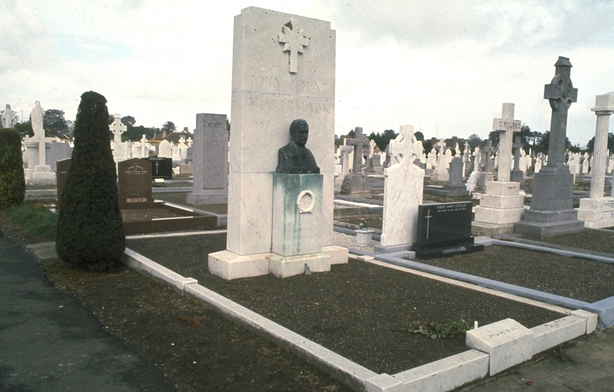 The grave of John McCormack in Deansgrange Cemetery
'John McCormack Anniversary Programme' was recorded on 31 August 1950 and was broadcast on the fifth anniversary of his death on Radio Éireann on 16 September 1950. The clip presented here includes the introductions to the recordings by Countess McCormack but no recordings.
From the RTÉ Archives Acetate Disc Collection which has been digitised with the support of the Broadcasting Authority of Ireland (BAI) Archiving Scheme.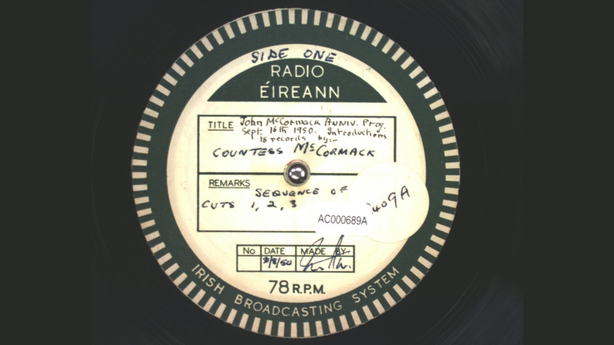 Acetate Disc (1950)