John McGahern talks about his latest collection of short stories titled 'High Ground'.
John McGahern published his first novel 'The Barracks' in 1963 and since then has produced five more books.
He came to maturity in an Ireland where artists were often persecuted by a hyper conservative society but he lives now in a changing Ireland that often seems to be persecuted by hyperactive artists.
His work tells the stories of spurned lovers, country people in Dublin and protestant families in border counties. This latest collection of short stories 'High Ground' goes a step further. While his work to date has largely taken the form of the novel, he has always been a fan of short stories.
I think we read writers. Not short stories or novels or sonnets and the quality of the writing is much more important than the quality of the form.
While 'High Ground' is a collection of individual short stories, John McGahern carries characters from story to story. This approach to the writing happened quite organically he believes that a writer does not choose his material. Rather the material chooses the writer.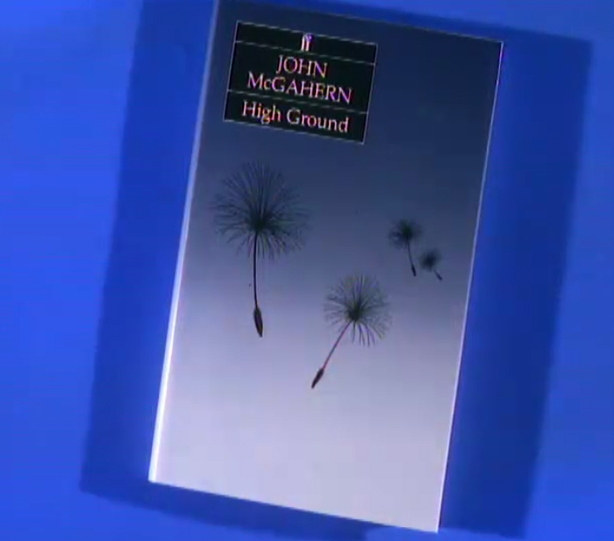 Johnv McGahern, Highground (1985)
One particular family that feature in the collection is a Protestant family living in rural Ireland. The family while fictional are based on the Anglo-Irish figures that John McGahern learnt about growing up. He talks about how the Anglo-Irish used language differently to Irish people. His stories also feature ceremonies that were specific to a Protestant way of life that simply did not exist for Catholics. He also believes that Protestants had a freedom that Catholics did not have. One of the Protestant characters even used this freedom to become a Catholic.
In the final story in the collection, John McGahern describes the bitterness and aggression in city pubs but denies it is a story about Patrick Kavanagh and his circle of friends.
This episode of 'Exhibit A' was broadcast on 16 December 1985. The presenter is Declan Kiberd.
'Exhibit A: The Arts Show' was a magazine style programme that looked at the arts in Ireland. Some episodes contained numerous features and reviews, while others focused on specific artists and art forms.