The voices of fair ground stall owners, the noise of livestock and music at Puck Fair in Killorglin, County Kerry.
Every year Killorglin holds the three-day Puck Fair, the oldest traditional fair in Ireland, and one of the oldest non-religious fairs in the world.
The main business of the fair is trading horses, cattle and sheep.
A wild goat is captured from the mountains and brought back to the town. The Queen of Puck Fair, usually a young girl from the town, crowns the goat 'King Puck'. The puck is put in a cage and hoisted onto a stand in the middle of the town. From this moment, the fair begins.
Radio Éireann 'Fun of the Fair' recorded on 26 May 1950.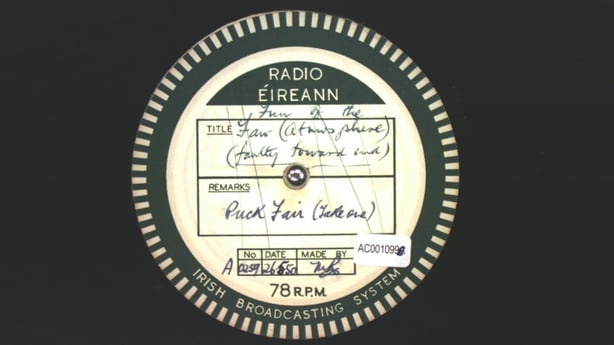 QAC001099B Puck Fair - Acetate Disc Collection
From the RTÉ Archives Acetate Disc Collection which has been digitised with the support of the Broadcasting Authority of Ireland (BAI) Archiving Scheme.