For the first time turf is being used in the large scale production of electricity to meet the growing demand across the country.
Portarlington ESB Power Station is the first plant in the country to use turf to generate electricity.
Today I saw the dark brown sod being turned into the light blue bolt of electricity.
The new plant was officially opened by Minister for Industry and Commerce Daniel Morrissey with a blessing by Bishop of Kildare and Leighlin, Most Rev Dr Keogh.
Speaking at the ceremony Daniel Morrissey paid tribute to Mr Seán Lemass, the Minister for Industry and Commerce who came up with the scheme in 1944. The original idea came from engineer and politician Sir John Purser Griffith thirty years earlier and it was Seán Lemass who instigated the joint project by the ESB and Bord na Mona.
A dream of thirty years ago became a reality.
Also speaking at the launch was Chairman of the ESB Mr RF Browne who said that this was the first time that turf had been used in the generation of electricity to meet the growing demand. He predicted that the current demand for electricity in Ireland will have doubled by seven years' time. Three stations had been completed in the last year and others were under construction. He envisaged that plants at Lough Erne and Allenwood would soon be completed. According to RF Brown, five million pounds per annum will be used in this capital investment. Referring to turf as "the brown bomber", he said the sod of turf, had been dreamed, planned, matured and translated in practice to light and power.
Once fully commissioned by the end of the year, Portarlington Station would have a capacity of 25,000 watts and an output of 90 million units a year with consumption of turf of around 120,000 tons.
ESB Portarlington Power Station Opens was recorded on 17 April 1950. The reporter is P P O'Reilly.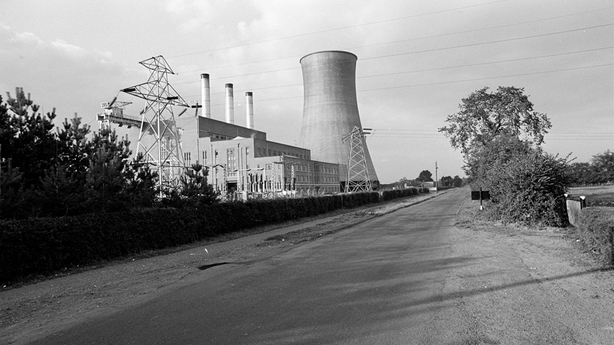 Portarlington Generating Station, Laois (1972)
From the RTÉ Archives Acetate Disc Collection which has been digitised with the support of the Broadcasting Authority of Ireland (BAI) Archiving Scheme.