The background to the establishment of the Electricity Supply Board in 1927.
As the Electricity Supply Board (ESB) commemorates its 50th anniversary a look back at the events leading to the founding of the company.
The idea of the Shannon Scheme and of a national electricity network was devised by Thomas Anthony McLaughlin. In 1923, as an engineer-in-training with the Siemens-Schuckert firm in Berlin, he was placed in the water power department. While there, he started examining data about the river Shannon. He had brought the data with him to Berlin and asked the Germans what output could be obtained from this river.
To my astonishment we found we could get much more than I had ever seen spoken of before, that was really because we were developing the river in one step.
McLaughlin became convinced electricity was key to economic development in Ireland and together with his colleagues in Siemens, came to the conclusion that hydro-electric power was the best option for the Irish Free State.
He proposed the idea to Irish Free State government led by WT Cosgrave. Minister for Industry and Commerce Patrick McGilligan, fully backed the proposed hydro-electric scheme on the river Shannon and used his influence to steer supporting legislation through the Dáil in support of the Shannon Scheme.
The waters of the River Shannon were harnessed at Ardnacrusha in County Clare, close to the Limerick border. The vast engineering project was constructed by more than 3000 unskilled workers. Wages were set at thirty-two shillings a week for a fifty-hour week with free lodgings.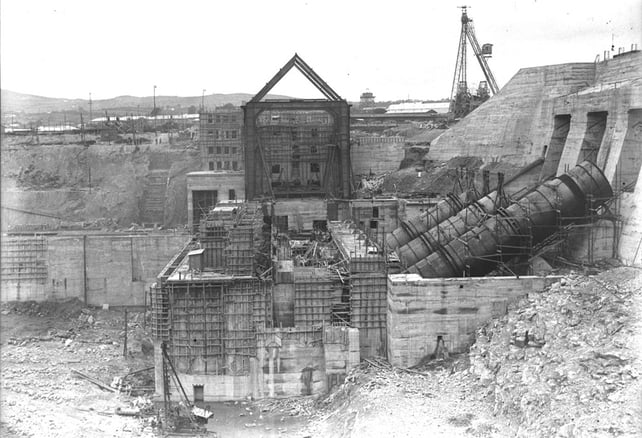 According to Patrick McGilligan,
The trouble with it all was, everybody wanted to get the concession to sell the electricity in this country to Irish people. The pivotal decision was would we hand over the concession to somebody to generate electricity, or would we do it ourselves, we decided to do it ourselves.
The Electricity Supply Board (ESB) was established in 1927 as a statutory corporation in the Republic of Ireland under the Electricity (Supply) Act 1927.
This episode of 'Féach' was first broadcast on 20 December 1977. It includes film footage courtesy of ESB Archives.