The nation honours Young Irelander and writer Thomas Davis.
Sunday 16 September 1945 marked the centenary of the death of Thomas Davis who with Charles Gavan Duffy and John Blake Dillon in 1842 founded 'The Nation' newspaper, an organ of the Young Ireland Literary Movement.
One hundred years later, people throughout Ireland took part in a week long commemoration of Thomas Davis. Events began on 9 September with a procession through the city of Dublin from Parnell Square to City Hall. The procession was led by Lord Mayor Peadar Seán Doyle and attended by President Seán T O'Kelly, city councillors, politicians, dignitaries and citizens.
At City Hall, Alderman Peader Seán Doyle addressed to crowds and the address was broadcast on Radio Éireann.
We are assembled today in the capital of our country to honour the memory of Thomas Davis and his colleagues of the Young Ireland Movement who one hundred years ago, as it was said, brought a new soul into Ireland or rather revised the giant soul of the Irish nation.
Alderman Doyle goes on to describe how the present generation who are brought up in a sovereign, independent state can hardly realise the conditions under which the national life of the people struggled for survival a century ago.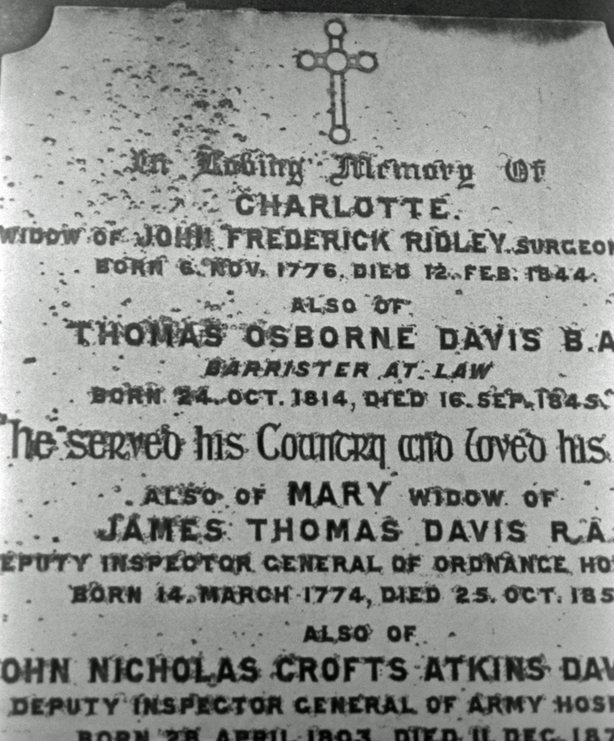 Thomas Davis Gravestone
Born on 14 October 1814, Thomas Davis died on 16 September 1945 at the age of thirty.
Thomas Davis Commemoration was broadcast on 9 September 1945.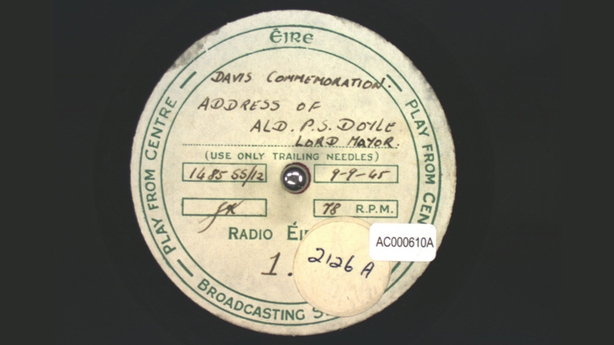 Thomas Davis Commemoration (1945)
From the RTÉ Archives Acetate Disc Collection which has been digitised with the support of the Broadcasting Authority of Ireland (BAI) Archiving Scheme.