William Meegan recalls playing with a young George Bernard Shaw as a child in Dalkey.
William Meegan tells Seán MacReamoinn about his boyhood memories of George Bernard Shaw.
Now in his eighties, he has good memories of growing up in Dalkey south Dublin and his friendship with George Bernard Shaw who was a few years older than him.
He remembers playing as a small boy with George Bernard who was then a big boy.
William Meegan lived on Torca Hill where at the time there were just four houses. It was in one of these houses 'Torca Cottage' where the Shaw family lived. Despite being a few years older than him, George Bernard Shaw played with the young William. He says that George Bernard Shaw was,
A stout lump of a young fella.
William Meegan has fond memories of George Bernard Shaw and recalls days spent catching birds. The only time they fought was when GBS would take his birds which would end in a scuffle that the future writer would win. George Bernard Shaw had the nickname 'Bullock Soup', not because of his red face but because he used to boast about the soup the cook used to give him at home.
'The Shaw Programme' was recorded on 27 November 1950. The presenter is Seán MacReamoinn.
George Bernard Shaw died on 2 November 1950, just a few weeks before this interview was recorded.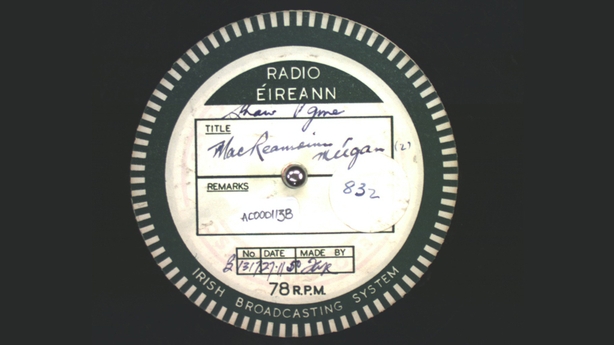 Acetate Disc Collection: Memories of George Bernard Shaw (1950)
From the RTÉ Archives Acetate Disc Collection which has been digitised with the support of the Broadcasting Authority of Ireland (BAI) Archiving Scheme.