Plans are being made to establish a permanent museum at the house where George Bernard Shaw was born number 33 Synge Street.
The Nobel Laureate and author of many plays, George Bernard Shaw, is to be celebrated in his Dublin birthplace.
On 29 March 1990 Ron Wood of The Rolling Stones and snooker player Jimmy White attended a ceremony hosted by the Shaw Birthplace Museum Trust at the Mansion House in Dublin to raise funds for the museum. The duo who share an interest in the project reveal they were diverted to 33 Synge Street instead of the Mansion House and missed the opening presentation and speeches. Ron Wood says,
The reason we were late we missed all the speeches because we went to his house 33 Synge Street.
The house was purchased for £110,000 but £500,000 is required to restore the house to its former grandeur. At the event British Ambassador Sir Nicholas Fenn presented the Trust with a cheque for £16,000 which will help with the restoration costs and comments
I greatly admire the initiative of what these people are doing in making his home into a museum and I wanted to give it a helping hand.
Project Director John Batt believes that the museum will be a tourist attraction.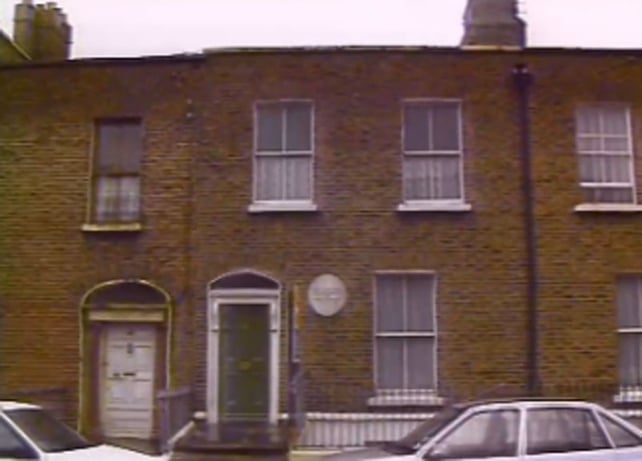 33 Synge Street, Dublin (1990)
The celebrated author and playwright George Bernard Shaw was born in Dublin on 26 July 1856 and died in Ayot St Lawrence, Hertfordshire on 2 November 1950. He received the Nobel Prize for Literature in 1925 and was a member of the Fabian Society.
An RTÉ News report by Orla Guerin broadcast on 29 March 1990.