A row in Connemara between those who holiday in caravans and others who wish to see more upmarket tourism in the area.
Paul Hughes, owner of the Abbeyglen Castle Hotel in Clifden, County Galway spent three months converting his hotel into a mock castle, complete with turreted walls, battlements, a round tower and spiral staircase.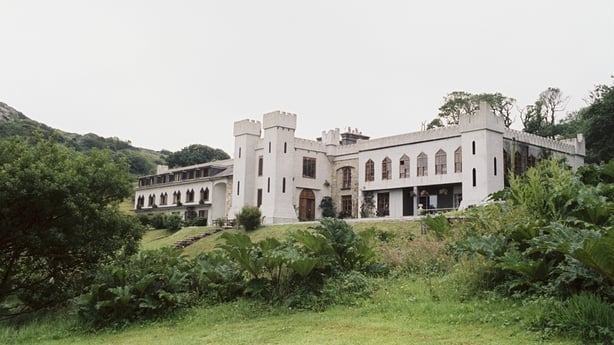 However, the hotelier has landed himself in hot water over comments made on 'Morning Ireland' regarding tourism in Connemara. Controversially he would like to keep caravanners, campers and backpackers out of the region.
In response, there has been much criticism of
The man who had, it was claimed, built a bit of Celtic Disneyland and a pseudo-castle in Connemara.
Paul Hughes is unrepentant about his attitude towards caravans,
I want to keep Abbeyglen and hotels in Connemara upmarket, that's where the money is, the hotels are the big employers, the hotels are the people who are keeping people off the dole queues.
He objects to the uncontrolled kind of camping and caravans as seen on Ballyconneely Bay Beach and he thinks the caravans should be cleared away.
Senator Mark Killilea who for a long time has taken his family holiday in a caravan on at Ballyconneely disagrees. He says many people cannot afford to stay in a hotel but they are still entitled to have a holiday.
While Paul Hughes is allowed to have his opinion, Chairman of Ballyconneely Community Council Peter Conneely says all tourism is valued,
We welcome people to the area of all denominations.
The Community Council is supporting a proposal for a caravan park and when it is complete, the beaches will be clear of caravans.
A buffet lunch in Abbeyglen Castle Hotel is attended by the actor Peter O'Toole who spends the summer at his home in Clifden. He believes there is room for all sorts of holiday in the area,
The more the merrier.
Dubliner Celeste Keegan is a caravanner taking refuge from the rain in the Abbeyglen Castle Hotel. She cannot understand Paul Hughes's animosity towards people who take caravan and camping holidays in Connemara. That said she is enjoying the respite provided by his hotel.
An RTÉ News report broadcast on 1 October 1985. The reporter is Jim Fahy.