A look back at the 10th anniversary from a 1994 RTÉ Television News report.
Currently presented by Audrey Carville, Cathal Mac Coille, Rachael English and Gavin Jennings, Morning Ireland is the country's most listened to radio show and is broadcast each weekday from 7.00 - 9.00 am. The programme was first broadcast in 1984 by David Hanly and David Davin-Power.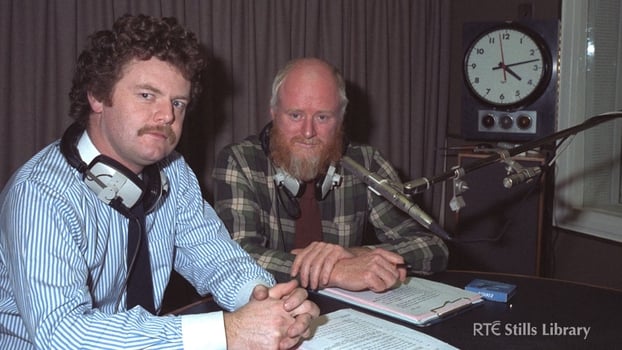 David Davin-Power and David Hanly (1984)
This report from 2 November 1994 shows the presenters in studio with sound bites of some of the most famous interviews over the years. Director of RTÉ News, Joe Mulholland talks to Ciaran Mullooly about the success of the programme. A 10th-anniversary reception was held at RTÉ, with tributes from Taoiseach Albert Reynolds. David Hanly also talks about some of his earliest memories of the programme.

In 1984 an RTÉ Guide feature introduced two new programmes to the radio schedule, 'Morning Ireland' and 'Today at 5'. Editor Shane Kenny and the two presenters, David Hanly and David Davin-Power spoke of what they hoped to achieve in the early morning programme, which has gone on to become the most successful show on Irish radio.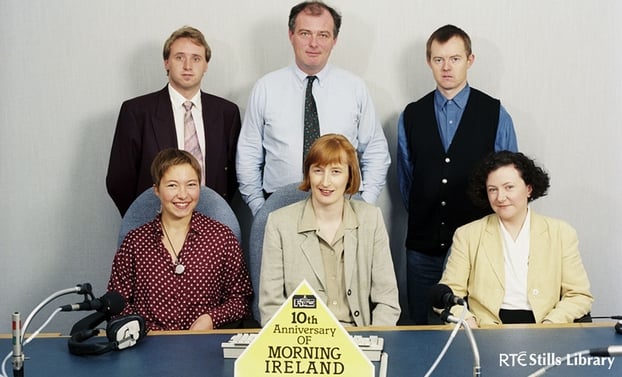 The team behind 'Morning Ireland', photographed to mark the 10th anniversary of the programme, in October 1994. Sitting in the front row from left to right; Jenny Witt, Margaret Ward and Cathy Milner. Standing in the back row from left to right; Niall Martin, Donal Byrne and Cillian de Paor. RTÉ Guide 02 November 1984.
Morning Ireland is currently presented by a panel of rotating presenters Audrey Carville, Rachael English, Claire Byrne, Gavin Jennings, Cathal Mac Coille, Fran McNulty and Christopher McKevitt.
To find out more about Morning Ireland, visit www.rte.ie/radio1/morning-ireland/