An exhibition of photographs, original recordings and memorabilia to mark 60 years of Irish broadcasting.
On New Year's Day 1926 Radio Éireann began broadcasting with Seamas Hughes, the station's first announcer. The Irish National Broadcasting Service operating under the call sign '2 RN' was then officially inaugurated by Dr Douglas Hyde, founder of the Gaelic League and later first President of the Irish Free State.
Operating from a small studio on Little Denmark Street, Dublin, using a transmitter in the Phoenix Park with a range of up to 80 miles.
RTÉ museums curator Paddy Clarke reflects on the first broadcast back in 1926 describing how most people would have been listening on opening night on their crystal radio sets. It is estimated that there were about 10,000 receivers in the country at the time, of which about 3,000 were licensed. Before 2 RN people listened to the BBC which had been in existence since 1922, and other European stations. In 1928 the studios moved to the General Post Office in 1928.
In 1933 a new high powered transmitter was erected in Athlone, and the service could now be heard nationwide. In 1974 radio moved to its current studios in Donnybrook.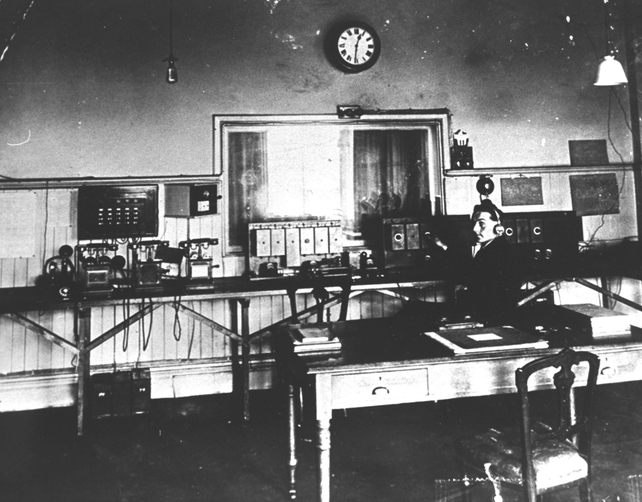 2RN Control Room (1926)
The exhibition contains a display of radio receivers and phonographs from throughout the decades, in addition to archive material.
The 60 years of broadcasting exhibition is at Arnotts Department Store on Henry Street in Dublin, just around the corner from where it all began. A series of lunchtime talks also form part of the exhibition with contributions from John Bowman, Ciarán Mac Mathúna, Donncha Ó Dúlaing and Brendan Balfe.
An RTÉ News report broadcast on 4 March 1986. The reporter is Brian O'Connell.