Connemara West a company owned by the people of the area aims to build a stronger more sufficient local community.
A systematic approach to community development in north west Connemara has made it possible to unite diverse voluntary groups and organisations, resulting in the establishment of Connemara West Plc (public limited company) in 1971. The enterprise has committed itself to the economic, social and cultural development of this part of County Galway.
Acknowledging that community development does not happen overnight, Michael O'Neill of Connemara West says that mistakes made along the way have offered an equal number of opportunities for learning and growth, which ultimately benefited the people and the area,
We're all contributing to an overall type of development.
The ethos of this particular community enterprise means that everyone in the area is valued. No distinctions are drawn between those who in conventional full time employment and those who are not, as they are often the ones who most active in the community. The optimal type of work for the latter however would have to be flexible in nature,
To allow them time to carry on the activities which they're involved in, like farming on a seasonal basis, or fishing.
Farmer-fisherman Johnny Fitzpatrick from the parish of Ballinakill is one of those people. He returned from the United States eleven years ago, and lives here with his wife and four children.
A member on the board of Tullycross Credit Union, he is also involved in the local football team, on three sub-committees developing fisheries in Connemara, and also represents local farmers on a drainage scheme.
He puts Connemara West's success down to dedication of the locals and the community council who maintained an inclusive approach from the start. It has also got a lot to do with the ethos of the Connemara people, who are hardworking and resourceful by nature,
The people here never got nothing from anybody you know like local government and they had tried actually very hard. They knew that they had to get down to the job themselves.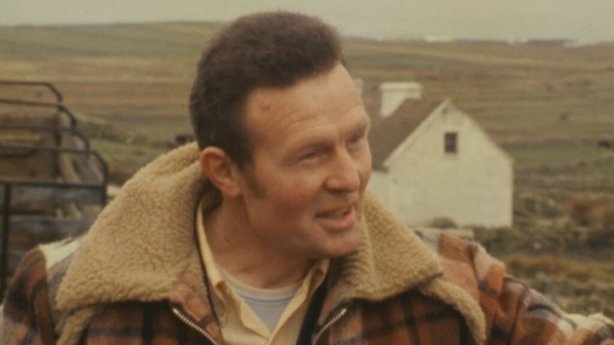 Johnny Fitzpatrick (1980)
And another benefit is that the talents, skills and resources of the region are being utilised, says Michael O'Neill,
People have stopped looking outside the area and have begun to look inside the community.
This report for 'Week In' was broadcast on 10 March 1980. The reporter is Áine O'Connor.