Fears that a decision to allow drift net fishing in Connemara will damage wild salmon stocks.
A decision by the Department of Agriculture and Fisheries to extend drift net fishing from Donegal and north Mayo to south Mayo and Connemara will have an effect on wild salmon stocks, say conservationists and anglers.
Tom Flaherty and his son are fishermen in Renvyle, County Galway, who earn their living mainly from lobsters. Between April and July however, they catch salmon, when the shoals travel all the way from the Davis Strait between Canada and Greenland to the west coast of Ireland. Their goal is to reach the head waters where they were spawned, and where they themselves will spawn.
Atlantic salmon are plentiful, and until 9 June 1969 large numbers of them were still able to avoid the draft nets in the estuaries, and some rod anglers in the streams, before arriving at their destination.
Driftnet fishing, which uses nets made from synthetic fibres means that it is much more difficult for the salmon to avoid them. Caught by the thousands, they provide a welcome increase in the income for the men who fish these waters in this method.
This method of fishing has been practised in Donegal and north Mayo, but not as far south as this part of Connemara since 1914. Halted because of the apparent damage it was doing to salmon stocks, for 50 years or more it has been forbidden here.
Following an enquiry into why Connemara fishermen were not permitted to fish in this way when their colleagues not too far away could fish unimpeded, the drift nets were reinstated.
This controversial decision drew much criticism from local conservators of fisheries and those who lease sections of rivers for rod angling. As they see it,
If salmon can't get up the rivers, then they can't spawn. And if salmon don't spawn, then there are no salmon in future years.
Hotelier, angler and Mayo man WA Wallace who rents the Delphi salmon fishery near Louisburgh is one of those who has been making the case against driftnet fishing.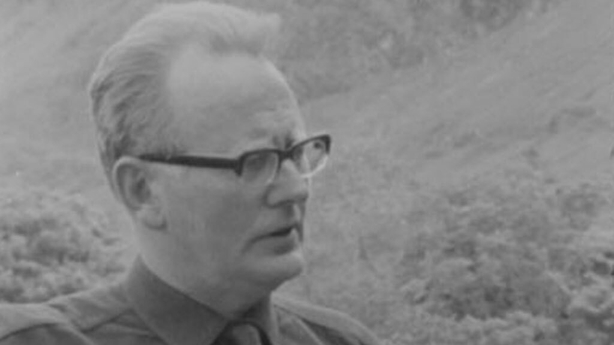 WA Wallace, Louisburgh, County Mayo (1969)
Recognised as having done severe damage to Atlantic fisheries in Scottish and Canadian territories, the practice has been banned off the coast of Scotland as well as in the Davis Strait.
WA Wallace is concerned that relaxing of the regulations will mean a free for all on salmon fishing. This will ultimately be detrimental to the small scale fishermen, as those with larger boats will benefit,
They've no stake in the county, they've no interest in keeping the fisheries alive here, they will just come in and eliminate them.
1968 was not a good year for angler's on WA Wallace's stretch of the river, and he attributes this to a combination of drought, and the fact that north Mayo driftnet fishermen reported catches of 39,500 salmon,
I don't think any of our rivers in south Mayo can stand being reduced from their present numbers.
In addition to conservation of salmon stocks, he believes the livelihood of the traditional draft net fishermen is being put at risk from the drift net fishermen, who have,
No tradition of fishing salmon in this district, and they will catch the fish before they reach the draft nets inside the bays.
This episode of 'Newsbeat' was broadcast on 26 June 1969. The reporter is Cathal O'Shannon.
'Newsbeat' was a half-hour feature programme presented by Frank Hall and ran for 7 years from September 1964 to June 1971. 'Newsbeat' went out from Monday to Friday on RTÉ television and reported on current affairs and issues of local interest from around Ireland. The final programme was broadcast on 11 June 1971.