The old town hall in Kiltimagh opens as a theatre and centre for the arts in Mayo.
Built in 1901, Kiltimagh's town hall got a new lease of life when it was purchased by the local drama society.
Restored and refurbished thanks to a youth employment training scheme run by the state agency AnCo (An Chomhairle Oiliúna), the theatre will seat 120 patrons.
Kiltimagh Drama Society member Frank Heagherty looks forward to expanding their repertoire, and believes this is the start of a new phase for theatre and the arts in the locality.
The whole area around east Mayo, I think it's a great thing for it. It's a great theatrical venue I hope.
The local community as well as people of Kiltimagh town have supported the venture, and the fundraising committee had the novel idea of having patrons pay £12 to have their names engraved on a theatre seat.
Mick Lally, a Mayo man and star of the RTÉ' weekly rural soap opera 'Glenroe' was present to cut the ribbon and declare Kiltimagh's Town Hall Theatre officially open. As a member of Galway's Druid Theatre Company, he is no stranger to treading the boards himself, and wished the newest theatre in Ireland well,
I wish it many's the long and happy night, and may it stage many's the production.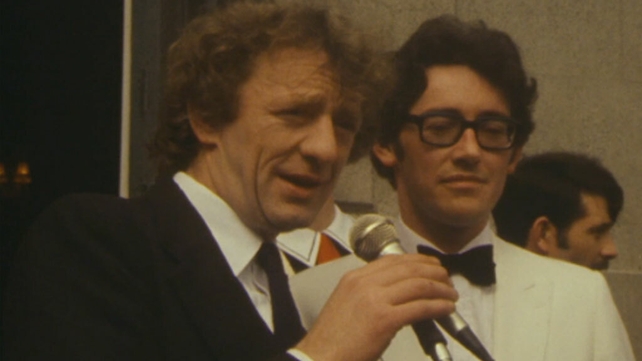 Mick Lally, Kiltimagh, Co. Mayo (1984)
The opening of a new theatre in Ireland is something to be celebrated, and for Mick Lally, its location has a special significance,
I grew up in Tourmakeady which is not that far from Kiltimagh. I always heard of Kiltimagh as a place to steer clear of.
Kiltimagh Drama Society hopes that the theatre will become a centre for the arts in east Mayo. The building now has dressing rooms, wardrobe and storage areas, and a bar. It also includes an exhibition space, which is currently hosting an exhibition of paintings by local artists.
An RTÉ News report broadcast on 10 April 1984. The reporter is Andrew Kelly.