Tá an Ghaeilge beo bríomhar sa Ghaeltacht bheag seo i Mhaigh Eo, ach bíonn an imirce i gcónaí i mbéal dorais.
Cé go bhfuil cáil ar Thuar Mhic Éide agus a Choláiste Gaeilge, is beag eolas atá ag an gnáthduine in Éireann faoin gcúinne iargúlta seo i dtuaisceart Maigh Eo.
The Erris Gaeltacht of north Mayo is perhaps one of Ireland's best kept secrets. Isolated and underdeveloped, not many people outside of the county are even aware of its existence.
In Ros Dumhach (Rossport) Annraoí Ó Liatháin talks to the headmaster of the local national school Annraoí Ua Corrduibh. People here take pride in their native language, and there is no sign of it in serious decline, for now at least,
Ceathrú Thaidhg, Pórt A' Chlóigh, agus Cill Ghallagáin. An mead daoine atá fágtha ann...tá Gaeilge acu uile, agus sílim go bhfuil siad ag cloígh le Gaeilge anseo go láidir is atá siad i ngaeltacht ar bith eile.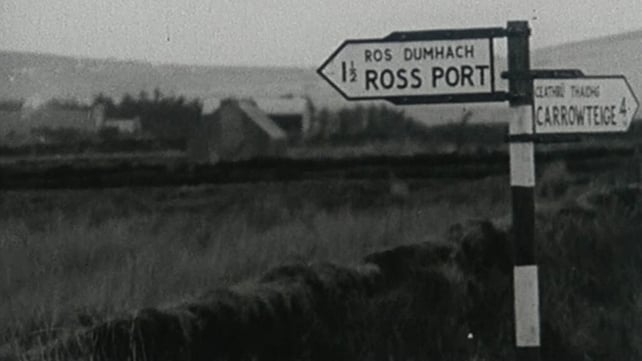 Signpost for Ros Dumhach and Ceathrú Thaidhg (1969)
One problem that is ever-present, however, is that of emigration. Although the fishing is doing well, small farms cannot and do not continue to provide enough of a livelihood for people, and when people leave, the language goes with them. It saddens Annraoí Ó Liatháin that emigration is now seen as an option for so many,
Is é an trua é go nglacann na daoine le imirce mar cuid dá saol.
This episode of 'Gaeltacht' was broadcast on 27 March 1969. The narrator is Annraoí Ó Liatháin.