Once the home of the poet Oliver St John Gogarty, Renvyle House Hotel in Connemara celebrates its centenary with a literary weekend.
First opened as a hotel in 1883, poet and surgeon Oliver St John Gogarty bought Renvyle House in in Connemara, County Galway in 1917. He used Renvyle as a retreat initially, until his wife and son ran it as a hotel.
A good deal of Gogarty's literary work was written in his Connemara home and he and his many friends put Renvyle on the literary map.
To commemorate Gogarty's links with the Renvyle House, president of University College Galway Dr Colm Ó hEocha unveiled a blue plaque and recalled the writer's links with the area in the 1920s and 1930s.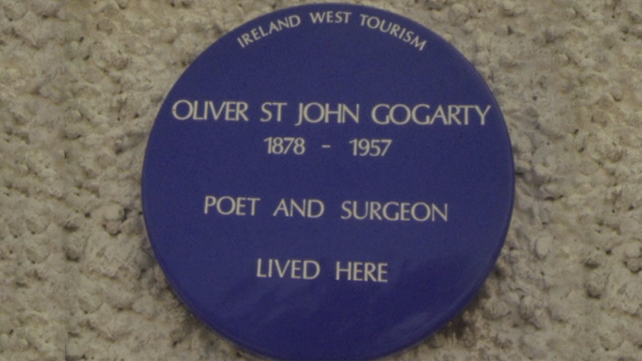 Chairman of Ireland West Tourism Tom Connolly presented the hotel with a set of special tapestries. Gogarty's son Noel spoke about his father's determination to hold onto the house recalling his father saying,
Owing to a year's teetotalism I have been able to buy Renvyle House.
Over the weekend there was an exhibition of Gogarty first editions, letters, manuscripts and memorabilia as well as Gogarty shows including the Irish Premiere of 'The Best Of Times Is Now' a life of Oliver St John Gogarty, written by Veronica Jane O'Mara.
Veronica Jane O'Mara, who studied at University College Dublin, did her Master of Arts thesis on the writer and feels that more attention needs to be given to Gogerty and the development of Renvyle as a literary centre.
When it first opened as a hotel in 1930 the first few pages of the visitor's book show that Renvyle House played host to many famous people, including the tenor John McCormack and his wife Lily, the painter Augustus John and the poet William Butler Yeats.
WB Yeats spent his honeymoon here, Mahaffy and all the dons from Trinity stayed here.
An RTÉ News report broadcast on 5 September 1983. The reporter is Jim Fahy.