Born in Slane, Co. Meath in 1887, Ledwidge joined the army when war broke out. He enlisted in the Royal Inniskilling Fusillers and was killed in action with several members of his battalion in 1917. He was 29 years old.
Ledwidge's nature poems have been taught to generations of Irish schoolchildren, including his 'Lament for Thomas MacDonagh', one of the leaders of the 1916 Rising, a verse of which is inscribed on a plaque in Slane.
P.P. O'Reilly visited Slane in a 'Discovery' programme broadcast on 29 September 1966. In this extract, he meets the poet's brother Joe and hears about their childhood. Francis loved listening to the blackbird and wanted to be buried at home. Joe thinks it a pity that he died so far away.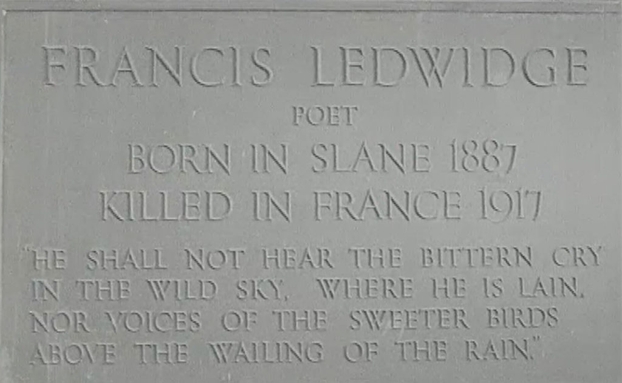 'Discovery : In Slane' was broadcast on 29 September 1966. The presenter is PP O'Reilly.
'Discovery' was a documentary series broadcast on RTE between 1964 and 1967. 'Discovery', which first aired on Tuesday, 14 January 1964 touched on many aspects of Irish life with an occasional spotlight on events of particular interest.