A painting by artist Richard Byrne hanging in the Abbeyglen Hotel in Clifden, County Galway is the inspiration behind bringing the film production of 'Three Wishes For Jamie' to the area.
Matchmaking was a serious business in the Ireland of the 1890s.
Adapted from a bestseller by Charles O'Neal, and previously a Broadway musical, this made-for-television film directed by Robert Young, is a Columbia Pictures and HTV co-production, and hundreds of people in the Clifden area are involved in the production.
For hotelier Paul Hughes who has a small part as a bible-thumping preacher, and for Clifden in general, 'Three Wishes for Jamie' is a business bonanza.
It's meant big money...the best thing that's ever happened to Clifden...the possibilities are endless. We're going to search for more movies, we need more of this thing.
Shooting on location at Owenglin Falls, more than five miles from Clifden is not without challenges as props, sets and costumes have to be hauled across rivers and boglands. However executive producer Andy Hill says it has been a successful shoot and the weather and the locations have been spectacular.
It really has made Ireland the added character in the film... I think we have managed to bring a picture to the American public... that really captures the spirit and the magic of Ireland.
Locals hope that this is the beginning of bringing more film crews to Clifden although Andy Hill is more cautious. While he would love to shoot another film in Ireland, this is not likely in the short term.
An RTÉ News report by Jim Fahy broadcast on 12 September 1986.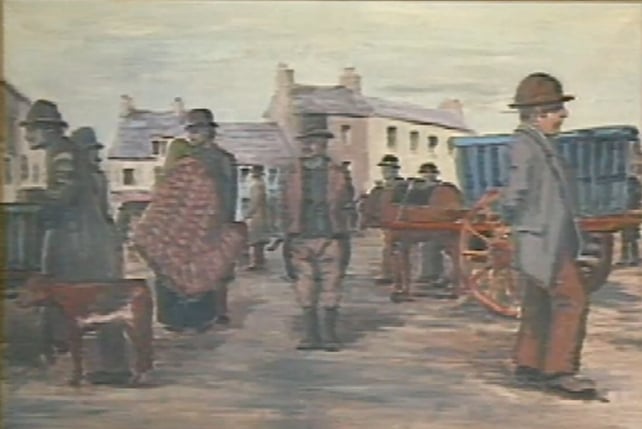 Painting of Clifden by Galway artist Richard Byrne.