Killala in Mayo has been transformed into a film set with hundreds of locals drafted in as extras for the production of 'The Year of the French', based on the events of the 1798 uprising against British rule.
Adapted from a novel by Thomas Flanagan, and directed by Michael Garvey, the six part drama is an RTÉ co-production with the French television station FR 3 in association with Britain's Channel 4, featuring Irish, French and English actors.
Eighteen months of planning has gone into the production and keeping 1981 hidden from view is one of the more onerous tasks for the crew. Telephone and electricity cables have been re-routed underground and RTÉ organised piped television for the town in return for taking down television aerials.
Tourists to the area means crowd control is also a challenge.
Killala 1798 never knew the day trip.
Daily life continues in Killala behind the facades locals come out of their modern shops and houses and step back into 1798. The local grocery shop has been given a new hoarding for 'Thomas Burke Fresh Meats'. The owner Nuala is not worried about the effect filming may have on her business and is adamant the productions will be good for Killala.
Her sentiment is echoed by the many local people undergoing costume, hair and make-up transformations to participate as extras in the drama, with Sean Hannick Chairman of the Community Council in Killala adding
I think people are prepared to put up with a bit of disruption for the long term benefits of the filming.
This report for 'Summerhouse' by Áine O'Connor was broadcast on 12 August 1981.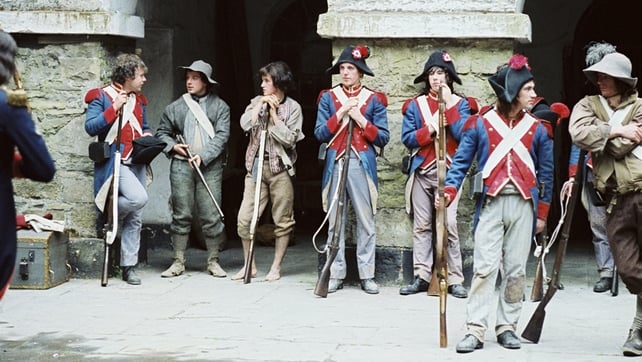 Extras dressed as French soldiers and pikemen