Seventy five years after the first first not stop transatlantic flight a Clifden man recalls his astonishment at seeing an aeroplane for the first time.
On 15 June 1919, British aviators Captain John W Alcock and Lieutenant Arthur Whitten Brown made the first non-stop transatlantic flight from Newfoundland to Clifden in County Galway.
A vintage biplane and Fouga Magister jets follow the flight path first taken 75 years earlier by Alcock and Brown as Clifden celebrates its special place in aviation history.
Recreating the transatlantic achievement of the pioneering airmen over Clifden at exactly twenty to nine this morning, when Alcock and Brown made flew into the history books at a mere 120 miles an hour.
Their epic 16 hour, 2,000 mile flight from Newfoundland as astonishing then as latter day space flights and moon landings.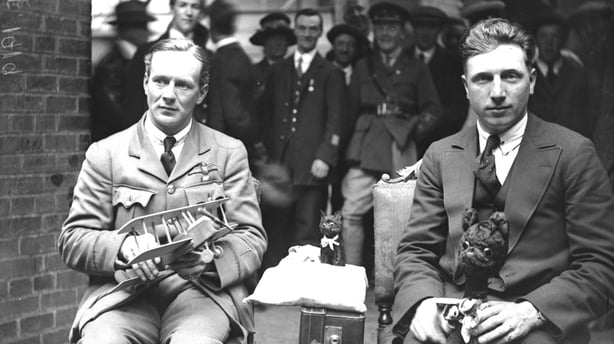 Cashman Collection: Alcock (left) and Brown, at the Automobile Club in Dawson Street, Dublin, June 1919.

Clifden native Arthur Miller a witness to aviation history recalls his surprise at seeing an aeroplane for the first time. Two guests of honour flew into Clifden to join in the celebrations, a niece of Captain Alcock and a nephew of Arthur Brown.
An RTÉ News report broadcast on 15 June 1994. The reporter is Jim Fahy.