Marking aviation history when an Irish man and two Germans made the first transatlantic flight from Ireland to America.
The 70th anniversary of the first east-west flight across the Atlantic Ocean by Dubliner Captain James Fitzmaurice (1898-1965) and two German co-fliers Hermann Köhl (1888-1938) and Baron von Hünefeld (1892-1929) will be commemorated in 1998.
On 12 April 1928 thirty-year-old Captain Fitzmaurice boarded the Bremen at Baldonnel Aerodrome to attempt what most people believed could not be done flying from east to west across the Atlantic. Thirty-six and a half hours later the aircraft landed on the ice on Greenly Island in Canada. The trio were treated as heroes receiving medals for their bravery.
Marking the 70th anniversary of the crossing, events, and celebrations will take place throughout Ireland during 1998 including the publication of a book 'Fitz - and the Famous Flight' by Teddy Fennelly, and the unveiling of a statue.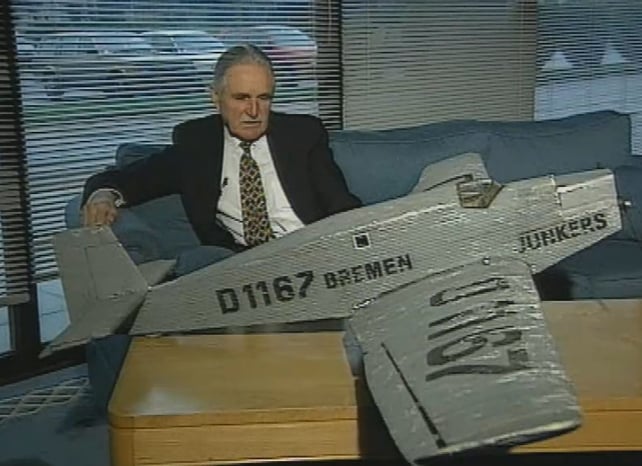 Captain Aidan Quigley
Captain Aidan Quigley describes the achievement of the the transatlantic crossing at a time of relatively primitive aviation.
It was a difficult and brave thing.
An RTÉ News report broadcast on 4 January 1998. The reporter is Colm Connolly.