In Galway, the airline company Aer Arann aims to ease the isolation of the inhabitants of the Aran Islands and tourism to the area.
The Gaeltarra Éireann associated airline Aer Arann was established in 1970 with just one twin engine 10 seater Islander plane flying from County Galway to a landing strip on Inis Mór, the largest of the Aran Islands.
Since then it has become a firmly established small enterprise with four planes operating between Carnmore Airport and Inis Mór, Inis Meáin and Inis Óirr.
From an office in Dominick Street in Galway City, passengers and their belongings are taken by bus to the airport at Carnmore. The journey to the Islands takes no more than 18 minutes, although it may feel like less. The air service has made the lives of people wishing to go to the islands a lot easier, such as children attending folk-school during Easter week.
In 1977 Aer Arann won the prestigious United Dominions Trust (UDT) Endeavour Award for its outstanding contribution to Irish tourism for flying over 30,000 people to the Aran Islands that year. This is a huge passenger increase from just 1,500 in 1970.
Instrumental in bringing the Aer Arann dream to fruition is Islander Coleman O hIarnain also known as Colie Hernon. He speaks about the plans for Aer Arann to connect up to other airports and airfields, potentially those in other Gaeltacht areas such as in Donegal.
Before Aer Arann was established it was difficult to get to the Aran Islands. Colie believes the air service, although costly to provide, has saved the islanders from isolation. Aer Arann has benefited the lives of those who live and work on the Aran Islands, but also depend on mainland services.
The episode of 'Pobal' was broadcast on 12 May 1977. The reporter is Breandán Ó hEithir.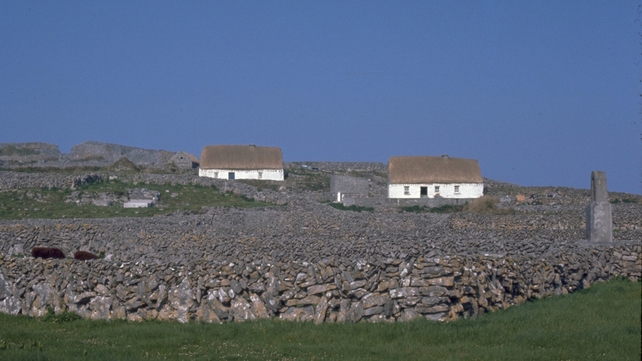 Thatched cottages on Inis Mór, 1974.