The Catholic Church removes a ban on Catholics attending Trinity College Dublin.
The announcement to lift the ban was made by the Irish Catholic Hierarchy at a meeting of bishops in St Patrick's College, Maynooth. The decision was welcomed by the authorities at Trinity College Dublin (TCD).
Attendees at the meeting included Cardinal William Conway, Bishop Peter Birch, Bishop Cahal Daly and Archbishop John Charles McQuaid.
The decision will now be sent to Rome for ratification but it is envisaged that Catholics will be allowed to attend TCD from the beginning of the new academic year.
The ban on Trinity College is no more.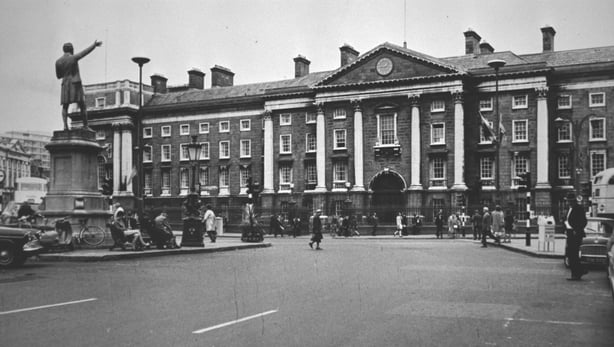 Trinity College Dublin (c.1969)
For over a hundred years, the Catholic Church had forbidden the attendance of Catholics at Trinity College Dublin without a special dispensation.
Cardinal Conway explained why the hierarchy had decided to lift the ban at this time pointing to agreements being reached between the National University of Ireland and Trinity College.
The bishops are seeking approval from the Holy See for the repeal of this law.
An RTÉ News report broadcast on 25 June 1970. The reporter is Kevin O'Kelly.