The Students' Union at Trinity College Dublin could be prosecuted for publishing information about abortion clinics in Britain.
Up to three thousand Trinity College Dublin students will receive a copy of the Students' Welfare Guide. The guide published by the Trinity Students' Union had to be printed in Belfast because it contains information on how to get an abortion in Britain.
The details in it are quite comprehensive. It goes through the actual price the cost of the actual trip to Britain and the abortion.
Mark Little, President of the TCD Students' Union, outlines exactly what information is provided including the cost involved, counselling information, and details of abortion clinics in the British Isles.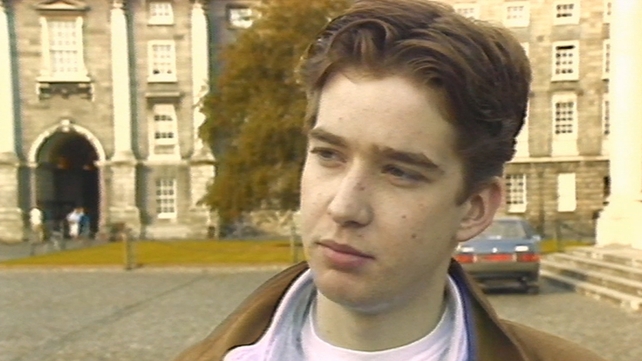 Mark Little, President of TCD Students' Union (1988)
The Society for the Protection of the Unborn Child is already involved in court proceedings against four University College Dublin (UCD) students to prevent their students' union from publishing similar information.
Earlier in the year, the Supreme Court ruled to prevent the Well Woman's Centre from publishing similar information.
TCD Law Lecturer Gerard Hogan explains that the Supreme Court found that the provision of such information was found to be contrary to the Pro-Life Amendment enacted in 1983.
Mark Little says that the Students' Union has sought legal advice and there is every likelihood that they will be taken to court.
An RTÉ News report broadcast on 2 October 1988. The reporter is Brian O'Connell.