The controversial Dutch ship the 'Aurora' which claims to offer abortions at sea made its maiden voyage to Ireland and docked in Dublin in June 2001.
Irish women gathered on the docks on Sir John Rogerson's Quay to welcome the Dutch registered 'Aurora' ship chartered by the 'Women on Waves' Foundation.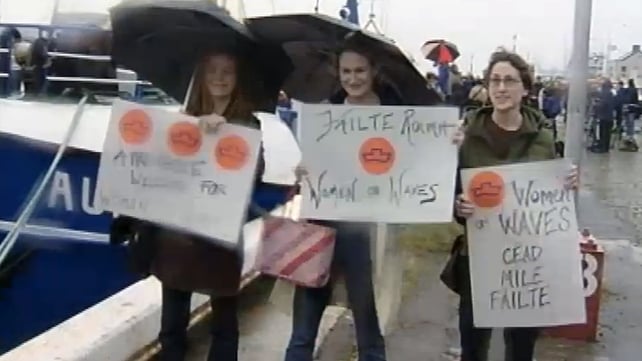 Women welcome the Aurora to Dublin (2001)
The Foundation was set up to bring reproductive health services to women in countries with restrictive abortion laws. It claims to offer abortions twelve miles out at sea in international waters but it is understood that the ship is not licensed to do so by the Dutch authorities.
A spokeswoman for the pro-choice non-profit organisation, Women on Waves, which is based in the Netherlands, Joke van Kampen said that they wanted to support Irish groups campaigning for the introduction of abortion.
We are offering services all different sorts of services but we are only here for two weeks so we are not a structural solution to the problems Irish women have with abortion
An RTÉ News report by Michael O'Kane broadcast on 14 June 2001.