Mary McAleese travels to England to investigate the services available to Irish women seeking abortions.
Ever since abortion was legalised in England in 1967, Irish women who would formerly have gone to backstreet abortionists were now finding their ways to legitimate English clinics. According to 'Frontline', at least seven women left Ireland every day in 1979 for an English abortion, but given that the statistics were based on those who gave Irish addresses, the real figure could be two or three times higher.
Reporter Mary McAleese goes to Liverpool, the most accessible city to Irish women, and meets a representative of the British Pregnancy Advisory Service, who tells her how distraught and desperate many of the Irish women who come to them for help are. In a number of situations, the abortion charities provide financial help, but afterwards the women must still return to,
A climate of a country which is so totally unsympathetic to the problem of these women.
A 'Frontline' broadcast on 15 January 1980. The reporter is Mary McAleese.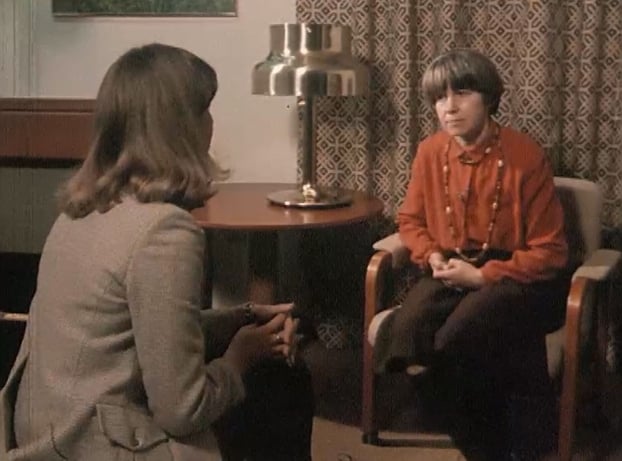 Mary McAleese meets representative of British Pregnancy Advisory Service
Mary McAleese worked as a presenter and reporter for RTÉ from 1979 to 1985. She was President of Ireland from 1997 to 2011.