Princess Tinymeat perform A Bun in the Oven on The Late Late Show.
Gay Byrne introduces the band Princess Tinymeat with a warning that the group will not appeal to anybody over the age of forty.
They're all about 17 and they're from Dublin, will you welcome then, most unusual group Princess Tinymeat.
Princess Tinymeat perform 'A Bun in the Oven' with Binttii (Daniel Figgis) on vocals. This version of the song was recorded for a Dave Fanning session on 25 February 1985. This session, which also includes the tracks 'End of Story' and 'Your Wish is Granted', features vocalist Binttii and guitarist Tom Rice.
Viewers at home are treated to special effects on screen.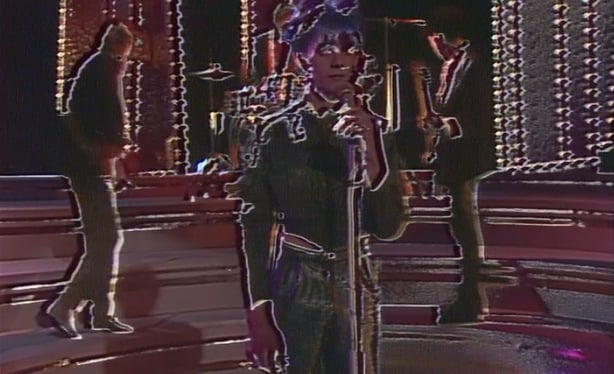 Following the band's performance, Gay Byrne remarks,
I have a strange feeling it's going to be one of those nights, I really have.
Gay Byrne then introduces his first guest, the poet, novelist, critic and columnist Anthony Cronin. When asked for his opinion on Princess Tinymeat's performance, Anthony Cronin says it has something.
When pushed to elaborate he adds,
Well, it was good and loud, I can't exactly say it was melodic, not to my ears, but it had energy and it had punch, and if you have those things you cannot go far wrong can you?
Daniel Figgis played drums and keyboards with avant-garde group Virgin Prunes from the beginning of 1980 to mid-1981. The name Haa Lacka Binttii was given to him by singer Gavin Friday.
This episode of 'The Late Late Show' was broadcast on 23 March 1985. The presenter is Gay Byrne.