Video, painting and sculpture - the latest works from artist Brian Eno are on show in Amsterdam.
Brian Eno musician, producer and artist is showing new work at the Stedelijk Museum in Amsterdam.
The Luminous Image is the biggest video art exhibition ever held and includes the latest work by record producer, musician and video artist Brian Eno.
The Luminous Image exhibition features the work of twenty two artists. Brian Eno's paintings, sculptures and videos have been given the largest space in the show. The exhibits are in a darkened room which makes it difficult to capture for television.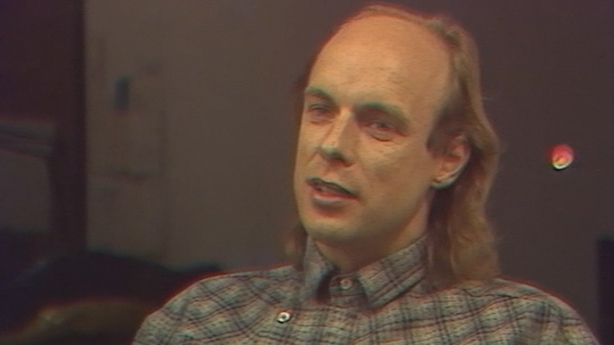 Brian Eno on 'Anything Goes' (1984)
Liking something is the same as understanding it.
Brian Eno believes that if it is a struggle to like or understand a work, then the work has failed in some way. As a medium video is far more complex to work with than audio.
It's a clumsy medium but also it's a medium that can give beautiful results.
He predicts that within a few years there will be developments in video to make it a cheaper format and it will become more accessible to ordinary people. Similar developments have already happened when it comes to recording audio and the world of music. For Eno, video is not necessarily synonymous with television and can be an installation medium.
Having produced and collaborated with U2 Brian Eno says he was attracted to the band by their honesty and sincerity as musicians.
He describes a cultural gap in the art world between the art itself and people. Video is a medium that can help to bridge this gap.
People, in general, don't rush to galleries to look at paintings and one of the reasons they don't is because painting as a practice has become fairly esoteric.
This episode of 'Anything Goes' was broadcast on 17 November 1984. The presenter is Dave Heffernan.