Dublin graphic artist Jim Fitzpatrick talks about his work which includes creating full colour depictions of Irish mythology and an image of Che Guevara which is known worldwide.
Famed for his illustrations of Irish myths ,graphic artist and illustrator Jim Fitzpatrick was presented with the US Inkpot Award 1981 in San Diego. He talks to Gay Byrne about illustrations from a recently produced portfolio and explains how he got his interest in mythology from childhood holidays in County Clare. The work of Jim Fitzpatrick is incredibly intricate and is he acknowledges heavily inspired by the original illuminations in the Book of Kells.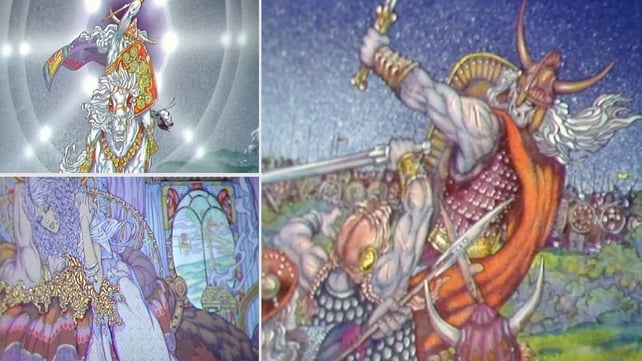 Jim Fitzpatrick Art on Late Late Show (1981)
One of the first works that Jim Fitzpatrick produced was a poster of Che Guevara. He recalls a brief encounter with Guevara in the Marine Hotel in Kilkee County Clare in 1961.
Later Fitzpatrick and his wife Deirdre sold Guevara posters on a stall in the Dandelion Market Dublin. His design has been copied so many times now, he says he barely recognises it.
This episode of The Late Late Show was broadcast on 3 October 1981. The presenter is Gay Byrne.