Virgin Prunes perform Theme for Thought on The Late Late Show.
Following a panel discussion on the visit of Pope John Paul ll to Ireland, Gay Byrne introduces the post-punk band Virgin Prunes.
They are unique and different, there is no other group in the business doing what they're doing at the moment, what exactly they're doing I'm not too sure mind you, but there's nobody else doing it and you have to make up your own mind.
Virgin Prunes perform 'Theme for Thought', the lyrics of which include a quote from 'The Ballad of Reading Gaol' by Oscar Wilde.
The band consists of vocalists Gavin Friday (Fionan Harvey) and Guggi (Derek Rowen), bassist Strongman (Trevor Rowan) guitarist Dik (Dick Evans) and drummer Pod (Anthony Murphy). Two women smoking cigarettes and drinking wine are seated at a table beside the band.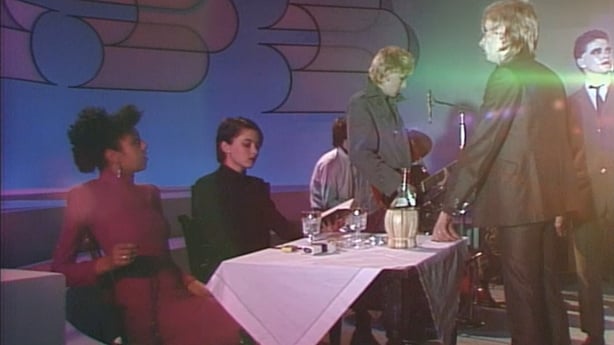 Following the performance, the sixth member of Virigin Prunes, Dave-iD Busaras (David Scott Watson) presents Gay Byrne with a box of chocolates.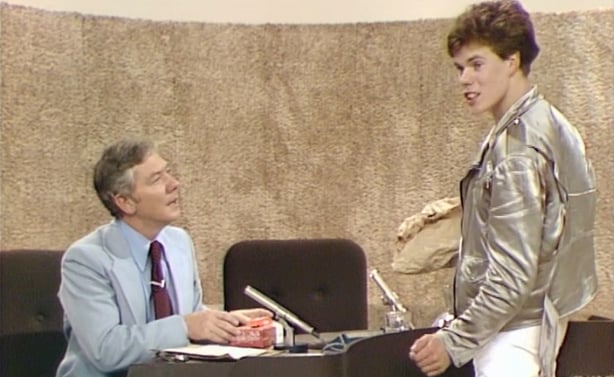 Before distributing bars of chocolate to members of the audience he says,
We'll be playing soon for people to hear us and we hoped you enjoyed yourself.
The members of Virgin Prunes belong to an imaginary place called 'Lypton Village'. The residents are a collection of friends who all hold a different view of life. Citizens of Lypton Village are christened with new names. Other inhabitants of Lypton Village include U2 members Bono (Paul Hewson) and the Edge (Dave Evans).
'Theme For Thought' appears on the Virgin Prunes 1982 album '...If I Die, I Die'.
This episode of 'The Late Late Show' was broadcast on 6 October 1979.