Groomed goats and bake off controversies at the Piltown Agricultural Show in Kilkenny.
Ireland's oldest agricultural show has been held annually in Piltown County Kilkenny, since 1828. It started when the Ponsonby family, the biggest landlords in the area, encouraged their tenants to improve their farms and homes by awarding annual prizes.
High standards have been maintained over the years, and the show today has a keenly competitive edge, with vegetables, fruit, livestock, home baking, jams and preserves all coming under the gaze of the judges.
The cake stand in particular has attracted controversy in the past explains Piltown Agricultural Show committee member Seamus Doran. This year they have taken steps to ensure a harmonious atmosphere prevails,
All cakes have been cut before the judges have handled them...there's a certain recipe laid down, and they must be prepared according to that recipe.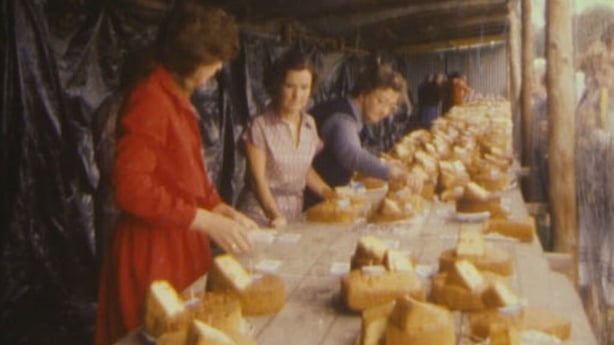 Cake judging at Piltown Show (1984)
Tipperary, owner of Wilton Wonder, which was bred by Thomas Keever, of Portlaw, County Waterford.
This prestigious award is recognised by Ireland's equestrian industry, who takes competitions like this seriously, says Michael Curran, vice president of the show,
It's a question of size, bone, movement...all the things that are the fundamentals required to produce a top-class non-thoroughbred horse.
Can Piltown really claim to be the oldest show in the country? They do, says secretary Gerry O'Donovan, and despite a claim from rivals at Ballinasloe Show, they are sticking to their guns,
We're established in 1828...and we've survived all through the bad winters and the good summers ever since then.
An RTÉ News report broadcast 12 September 1984. The reporter is Michael Ryan.