A disused windmill in Tralee is to be refurbished as a working tourist attraction providing employment for the area.
Blennerville just outside Tralee in County Kerry was the location from which the coffin ships left Irish shores during the famine years. There are plans now to make the windmill at Blennerville a new tourist attraction. Originally built in 1780 by Sir Ronald Blennerhassett, the mill is to be reconstructed at a cost of £150,000.
The original purpose of the windmill was to grind corn. When the famine hit, the it gradually fell into disuse and disrepair.
Eventually, the sails were blown off, the top cone deteriorated and fell away, the shell was used as a piggery.
The National Manpower Service, AnCO, local residents and Tralee Urban Council have now joined forces to give new life to the windmill. The Blennerville quayside is being restored and there are hopes to redevelop the canal.
Pat Franklin of National Manpower is secretary of the restoration committee outlines the reasons for redeveloping the windmill describing it as a unique asset for the area. The project would also help to alleviate problems of youth unemployment in the area. It is estimated that the restoration to full working order will take between three and five years.
An RTÉ News report broadcast on 1 August 1984. The reporter is Tom MacSweeney.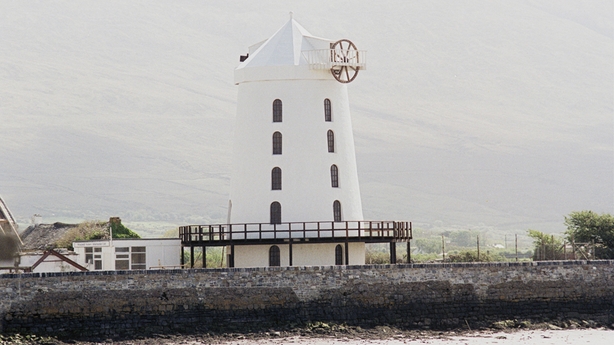 Blennerville Windmill at Tralee Bay, County Kerry, in May 1988