Tailors' Hall, the oldest remaining guildhall in Dublin city built in 1706, is finding a new lease of life.
For over two centuries the hall in Back Lane in Dublin's Liberties has been used not just by the tailors but also by the brewers, the goldsmiths, the glovers, the barber-surgeons, the couriers, and the saddlers.
To lovers of old Dublin, this building was worth saving not just as a piece of architecture but for its historical associations.
Over the years, the building has had many uses. At the end of the eighteenth century, it became known as 'The Back Lane Parliament'. In 1792, the great Catholic Convention was held at Tailors' Hall when 244 delegates from every county in Ireland convened to demand equal rights for Catholics. In 1794, Wolfe Tone and the United Irishmen met at Tailors' Hall and the building was raided and the society was driven underground.
Dublin Corporation has also met at Tailors' Hall and the building has also been used as a school. Various charities have used it as a headquarters. It has one unlikely association. Not only have the Free Masons held meetings there but so too has the Legion of Mary. The building has survived despite playing a part in the rebellions of 1798 and 1803.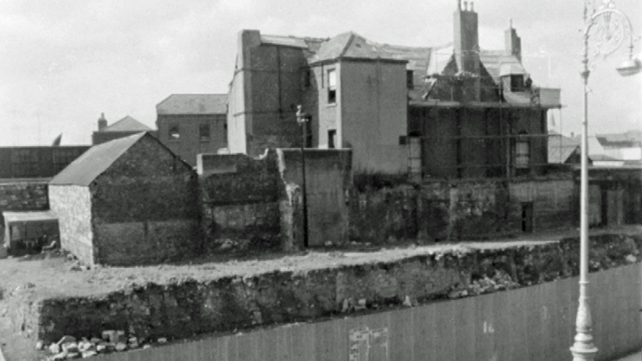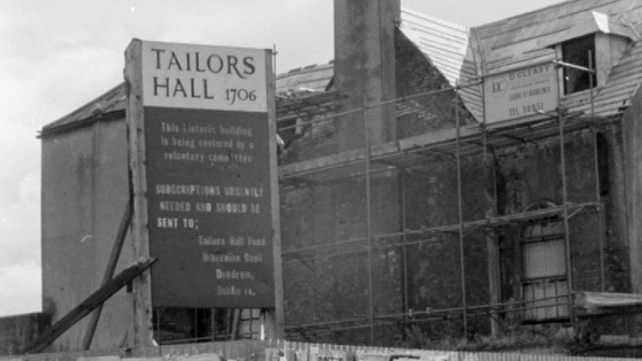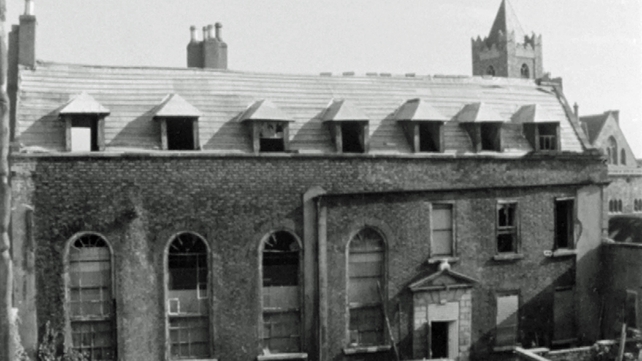 Tailors' Hall
Now a committee is giving the old building a new lease of life. Máire Comerford, the fund's treasurer for the restoration, is confident that they can raise the £20,000 needed for the works to be carried out from private individuals and organisations. She explains the importance of the building from a historical perspective describing the Tailors' Guild as a progressive organisation and describes the building as the location for the beginnings of ecumenism in Ireland. She sees the restored Tailors' Hall performing a number of functions, as the headquarters for a number of small cultural societies as well as a meeting place for the citizens of Dublin.
The architect in charge of the restoration is Austin Dunphy, who believes that while Tailors' Hall is not a great piece of architecture, it does have some interesting features.
The work at Tailors' Hall has now been going on for three years and the end is nearly in sight and the building is due to be officially opened in April 1969. Austin Dunphy outlines the work that has been carried out on the building to bring it back to its former glory but with modern conveniences. He also describes that as the works were being carried out they discovered that the origins of the house, in fact, went back to the 17th century.
A 'Newsbeat' report broadcast on 26 September 1968. The reporter is Cathal O'Shannon.