Bronagh Gallagher talks about Pulp Fiction, Daniel O'Donnell and what you should never ever say to someone from Japan.
Known to most Irish people as Dublin northsider Bernie McGloughlin in Alan Parker's film 'The Commitments', Bronagh Gallagher was born and bred in Derry. Accents aside, it was while she was in Hollywood that she got a surprise when she realised that the people she met there perceived her as,
A little leprechaun.
She got a part in Quentin Tarantino's latest film 'Pulp Fiction', a black comedy about two heroin dealers, played by John Travolta and Samuel L. Jackson. The star-studded cast also includes Uma Thurman, Eric Stolz, Bruce Willis, Rosanna Arquette and Harvey Keitel.
Quentin Tarantino wrote a small part for Bronagh Gallagher and she met Danny DeVito who was an executive producer for the film. During rehearsals, she was told to watch the scene, and fit herself in. A challenge for any actor at the best of times, being starstruck did not help, but she got through it, and then,
I went up to the toilet, Danny's toilet, and phoned mammy and daddy...
Another person she admires is Daniel O'Donnell, whom Bronagh got to know about when helping her mother, a hairdresser, with clients.
He gives so much pleasure to people...Everywhere you went it was Daniel. Daniel was being played twenty four hours a day. So I am a big fan. I grew up on Daniel.
At present, she is working with the Royal Shakespeare Company and a Japanese company, the Ninagawa theatre company, and will travel there next week to perform the Frank McGuinness version of Henrik Ibsen's 'Peer Gynt'.
The show opened in Oslo, and the first night drinks reception was the most prestigious event she has ever attended. Unfortunately, things took a turn for the worse, as one English speaker's way of saying 'cheers' means something very different to a Japanese person. There was only one course of action after that,
I was very quickly hurried into a car and sent back to the hotel.
Bronagh Gallagher started her film and television career when she played Anne Conlon in 'Dear Sarah', a television feature length drama broadcast on RTÉ in December 1989. The film concerned the wrongful imprisonment of Giuseppe Conlon and The Guilford Four for the Guilford and Woolwich pub bombings in Britain in 1974.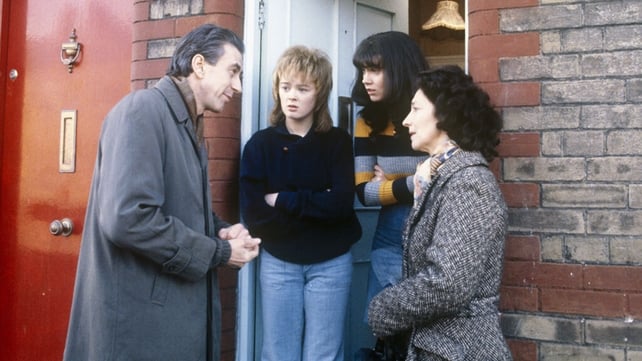 Barry McGovern, Bronagh Gallagher, Janice McAdam, Stella McCusker in 'Dear Sarah' (1989)
What does she make of Jim Sheridan's 'In The Name Of The Father' which is a different version of that same story? She acknowledges that as a feature film it is inherently predisposed to be more commercial than historically accurate, but admires it nonetheless,
It's a fine film, fine acting.
This episode of 'Kenny Live' was broadcast on 9 April 1994. The presenter is Pat Kenny.