On 19 October 1993, a reception was held to announce that the world gala premiere of the film 'In the Name of the Father' would be in Dublin at the Savoy Cinema on 16 December 1993.
United States ambassador to Ireland Jean Kennedy Smith hosted the reception at her Phoenix Park residence. Her niece Courtney Kennedy was married to Paul Hill, one of the subjects of the film, at the time.

'In the Name of the Father' is based on the true story of the Guildford Four, Gerry Conlon, Paul Hill, Paddy Armstrong and Carole Richardson, who were wrongly convicted of bombing two pubs in Guildford in 1974. Their convictions were quashed in 1989. In this RTÉ News report, film director Jim Sheridan and producer Arthur Lappin deny newspaper reports that the film will create support for the IRA. Spot Daniel Day-Lewis on the film set in Sheriff St, Dublin.

An RTÉ News report broadcast on 19 October 1993. The reporter is Colm Connolly.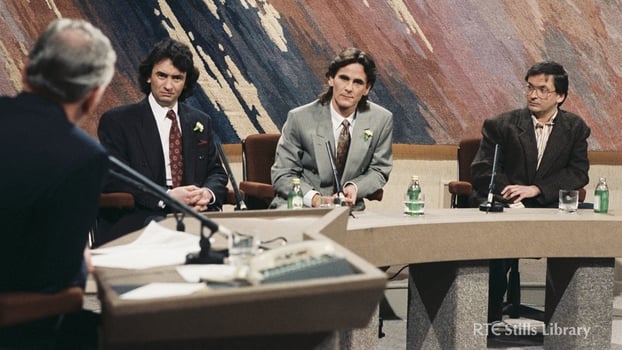 Gerry Conlon and Paul Hill on 'The Late Late' along with writer Roddy Doyle who was also a guest on the show (1989)