Demonstrations in Cobh as the USS Yorktown arrives on a visit.
The American Navy cruiser Yorktown arrived in Cobh to find anti-nuclear protesters from Greenpeace, CND and other groups waiting.
The anti-nuclear protesters blocked the ship from docking at Cobh in County Cork for over four hours.
The Yorktown is a sister ship of the Vincennes which shot down an Iranian civilian airliner over the Persian Gulf the previous year.
Gardaí were called as protesters chained themselves to mooring bollards in an attempt to stop the ship docking in Cobh.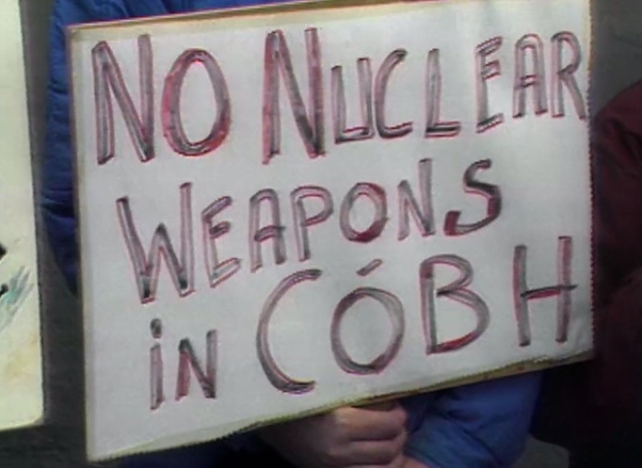 Anti Nuclear Protests in Cobh
There were scuffles as the chains were cut and Gardaí dragged away protesters.
Four hours after the ship arrived, none of the 320 crew had set foot on Irish soil.
The berthing was also obstructed by dockers who blocked a crane going in to move a gangway to the ship until they were paid around one hundred pounds each to work on the operation.
US Defence Attaché Robert White said he understood the protesters but pleaded for them to allow the ship to get on with its business.
An RTÉ News report broadcast on 19 March 1989. The reporter is Tom MacSweeney.