As congregations in Dublin city centre decline, the Church of Ireland must look after remaining parishioners and decide what to do with disused churches.
Reverend Gordon Linney is a canon of St Patrick's Cathedral. He gives the background to churches in Dublin city which at one time were the centre of thriving and diverse communities, but whose doors have now closed.
St Luke's in the Coombe is one church which has had to be closed by the Church of Ireland. Built in 1708, it was formerly the parish church for St Nicholas Without and St Luke's parish.
The original parishioners of St Luke's were mainly French Huguenots who settled in Dublin after fleeing religious persecution in France in the 17th and 18th centuries. While they were skilled weavers, the early years of the community were not overly prosperous, and the church reflected this,
In its early years it was a very simple and plain building. Someone described it as a dark, ugly barn.
The last service held there was in 1975, and the remaining congregation then joined the Church of Ireland community at St Catherine & St James Church on Donore Avenue, off the South Circular Road.
St Catherine's in Thomas Street was closed in 1966. A building of historical and architectural importance, it has been restored by Dublin Corporation. Passersby can see the memorial to Irish Nationalist and United Irishman Robert Emmet on the pavement outside the church, as this was the place of his execution in 1803 for his role in the failed rebellion against the British Crown in that same year.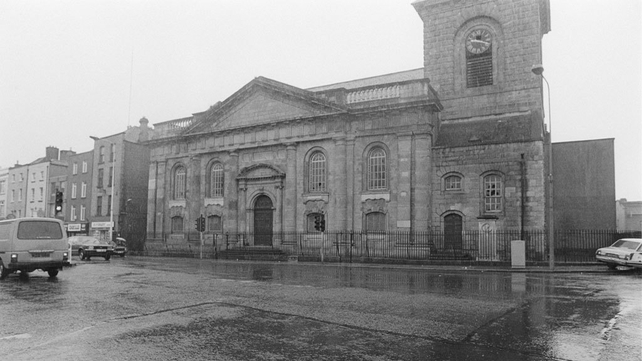 St Catherine's Church, Thomas Street, 1966. RTÉ Photographic Archive.
The parish church of St James, on James' Street is now home to a wholesaler's business. It was also sold by the Church of Ireland in the 1960s, as the population in Dublin city centre moved out to the suburbs. The changing demographic forced the Church to reorganise, but has presented new opportunities for growth. Expanding parishes in areas like Leixlip, Clondalkin and Tallaght means that the Church of Ireland must
Meet the challenges out there, of a growing populations and providing adequate manpower and parochial buildings, and schools.
Remnants of forgotten churches and their communities which were once alive and kicking are all over Dublin city centre. One in particular on Swift's Alley was in use up to the 19th century, but has since been converted to a factory premises.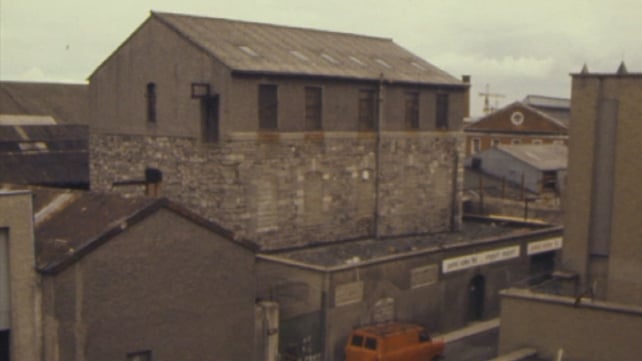 Former Anglican church, Swift's Alley, Dublin (1979)
But Canon Linney is very much aware that the Church of Ireland must continue to take care of their current parishes and parishioners who have remained in the city centre.
To this end, they have retained two churches - St Audoen's at Cornmarket, the oldest church building in Dublin, and St Catherine & St James on Donore Avenue. Reverend Linney is optimistic about the future, especially as there seems to be a move back into some areas city, the South Circular Road in particular,
It will be interesting to see how that develops in the years ahead.
This episode of 'Sunday' was broadcast on 7 January 1979. The reporter is Andy O'Mahony.