Dial A Seanchaí an on demand service in Clare allows the public to listen to traditional stories and music using the telephone.
Scéalaíocht i rith mí na Shamhna, ar an teileafón, i gContae an Chláir.
Clare County Council are making their rich heritage of storytelling available through a new scheme, whereby people can listen to a seanchaí (storyteller) on the telephone.
Well known fiddle player Martin 'Junior' Crehan from Mullagh in west Clare is one seanchaí whose voice can be heard. He tells a story and plays the accompanying tune 'The Priest's Lament'. Crehan also sings, plays the concertina, composes tunes, and is one of the people who started the Willie Clancy Summer School in Miltown Malbay, following the death of his friend, piper Willie Clancy.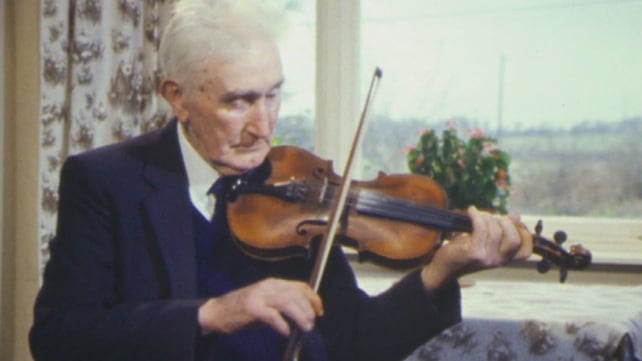 Seanchaí and musician Martin 'Junior' Crehan, Mullagh, County Clare (1988)
This new scheme is the brainchild of Kay Sheehy, Arts Officer with Clare County Council. There is a similar scheme in England, where people can dial a dedicated number and listen to poetry recitations.
But in keeping with the Irish tradition of storytelling during the month of November, it seems appropriate that the phone lines were opened on Oíche Shamhna (Hallowe'en). Given the success of the programme, are there any plans to keep it going? Kay Sheehy thinks there will be a demand for it,
Níl fhios agam fós, ach is dócha go mbeadh...gur leanfar ar aghaidh leis i rith mí na Nollag le scéalta Nollag, is dócha, nó ceol.
Local teacher Muiris Ó Rócháin is Director of the Willie Clancy Summer School. He tells reporter Nuala Ní Dhomhnaill about the collecting of stories and folklore which has been going on in County Clare since James Delargy first arrived here in 1929 to survey and record the seanchaí and folk traditions.
Collector Tom Munnelly has been making recordings on audio tape. Muiris Ó Rócháin reminds us, it's not just about recording the story for posterity, but the impact on the listener is a major factor,
Is mór an áis é sin, mar tá an guth agat chomh maith leis na focail.
What does the seanchaí himself make of this new take on an ancient craft? Martin 'Junior' Crehan admits that he has had to shorten the stories down to ten minutes, but he sees the benefits of what the county council are doing,
There are a lot of lonely people that could turn it on and hear something to pass away the long nights. And then, it could be handed down maybe.
This episode of 'Súil Thart' was broadcast on 4 December 1988. The programme was presented and produced by Nuala Ní Dhomhnaill.