The Clare People magazine which is celebrating a first year in print.
The Ennis-based magazine has struck a chord with readers all over the county. The first issue was printed in April 1977. Last month 4,500 copies were sold, which is no mean feat for any local publication. Editor Gerry Flynn is hoping to improve on the circulation figures, and is confident that this will be achieved, due to the fact that,
The Clare People is a review, or a community magazine...It's been covering local issues of community concern. It provides a forum, for example we've done some issues on Clare maternity services, overcrowding in the hospital, and the possibility of a nuclear plant in the county.
To a small degree, the Clare People is all things to all people but Gerry Flynn explains that this is most definitely not a parish pump magazine. It circulates throughout County Clare and also has readers in Dublin and Britain.
The high quality of printing in the magazine, coupled with the content, means it is new and fresh, and readers have been coming back for more. Gerry Flynn describes it as,
A new adventure in journalism...it's quite different, the work is different to that of a local paper...our printers do very good quality stuff...it's a professional job, provides my salary, and also provides a hell of a lot of satisfaction.
This episode of 'P.M.' was broadcast on 6 June 1978. The reporter is John O'Donoghue.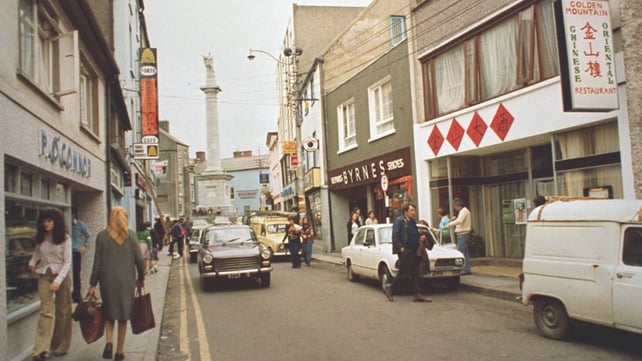 O'Connell Street, Ennis, County Clare (1979)
PM was a magazine series reporting on aspects of Irish life with interludes for music from Irish performers.
PM first began on Tuesday, 20 September 1977 and was initially aired three nights a week on Tuesday, Wednesday and Thursday at 7.00pm on RTÉ 1.
The original presenters John O'Donoghue, Áine O'Connor, Nicholas Coffey and Doireann Ní Bhriain were later joined by Pat Kenny.
As editor Noel Smyth sees it, the Tuesday programme will consist mainly of film reports on topical events anywhere in Ireland, the Wednesday edition will concentrate on studio discussions, and the Thursday programme will be in Irish, with just as wide a brief as the other two.
(RTÉ Guide, 16 September 1977, Vol.1, No.37, p.18)
PM ran until Thursday, 12 April 1979.