A plan for a car ferry service in Dún Laoghaire Harbour could result in the destruction of the National Yacht Club.
Frank Lemass, general manager of Córas Iompair Éireann (CIÉ), who is Commodore of the National Yacht Club is under no doubt that the car ferry will be of great benefit to tourism in Dún Laoghaire and
Is a wonderful thing.
But a casualty of the scheme to provide a car ferry terminal at the harbour, could be the premises of the National Yacht Club at Dún Laoghaire, which has been in existence since 1871.
In the original proposal, a stretch from the east pier to the mail-boat pier, and extending to the roadway taking in the lifeboat station, the anchorage yards and the premises of the National Yacht Club is to be filled in and concreted to make an assembly place for cars and customs clearance.
It makes a complete mess of the yacht club to start off with because all our facilities will be gone, we'd have no access to the sea.
Mr Lemass thinks the original proposal may have been changed to have the terminus at the east pier but this development would,
Seriously diminish that wonderful facility.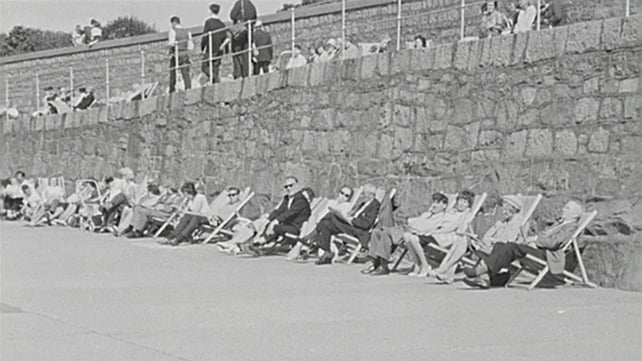 If the car ferry has to come to Dún Laoghaire, he feels there are other parts of the Harbour that could be developed for the terminal,such as the large area of unproductive ground at St Michael's Warf, west of the Carlisle Pier.
I think that even though it's not perfect it might be adequate for the car ferry boat.
Members of the National Yacht Club are not happy about the possibility of having to relocate, but they understand they can't stand in the way of progress. However to replace their clubhouse and facilities and will be costly a costly business.
We just don't have £100,000.
The club will not disband, but hope to be relocated somewhere else, although this will depend on the goodwill of the people concerned with the harbour.
They can take the club away from us but whether we have any legal claim to compensation, I don't know.
This episode of 'Broadsheet' was broadcast on 12 August 1963. The reporter is John Skehan.