Fire destroys the 141 year old St Michael's Church in Dun Laoghaire.
In July 1965 Saint Michael's Church in Dun Laoghaire was destroyed by fire, with only the great tower and spire surviving.
Reporter Mike Burns talks to the Clerk of Saint Michael's, Mr. Richard Carr, who was the first to spot the fire. He describes seeing flames coming from the organ loft and spreading to the roof within minutes.
The whole thing went up like match wood.
It was not known how the fire started. All the statues, the seats, the side altars and the main altar itself were damaged beyond repair, and the roof is no more. Gardaí have sealed off three roads surrounding the church for fear of the giant Belfry collapsing. They also formed a cordon around the site to prevent onlookers from getting too close to danger. The fire brigade poured thousands of gallons of water onto the blazing church but by this time saving any chance of saving the church was too late. Meanwhile, civil defence units were called in by Gardaí to help evacuate people living and working nearby.
The church was rebuilt and opened in 1973.
An RTÉ News report broadcast on 28 July 1965. The reporter is Mike Burns.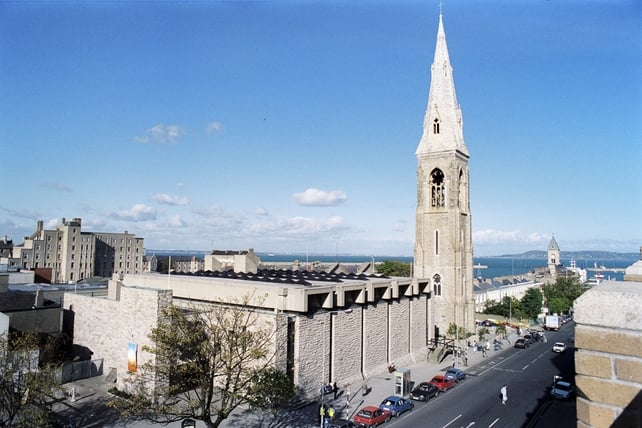 St Michael's Church, Dún Laoghaire (1993)