Marching bands, floats, a beauty pageant, music, song and lots of activities for children all part of the Dun Laoghaire Summer Festival.
There was "organised chaos" in Dun Laoghaire for the opening parade of the summer festival.
The parade included commercial floats from companies such as McDonalds while RTÉ was represented with a float from young people's programme 'Anything Goes'. Representatives from the army and marching bands led the parade.
Dun Laoghaire Summer Festival organiser John Murnaghan described it as,
A very, very exciting day.
The Teddy Bear's Picnic event runs for seven days of the festival and it is anticipated that over ten thousand children will take part in various competitions with prizes for the smallest to the softest teddy bear.
Now in its tenth year this is the first time the organisers decided to crown a Festival Queen. Sandra Carroll was crowned Queen of the Sea and said it was not a normal beauty competition as she was not required to parade around in a swimsuit.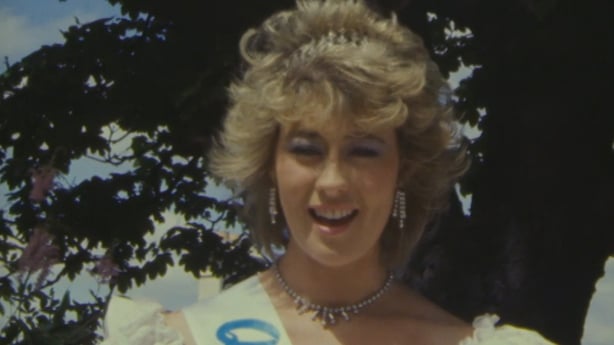 Sandra Carroll Queen of the Sea in Dun Laoghaire (1985)
It took the best part of an hour for the entire parade to pass by the viewing stand located outside Dun Laoghaire town hall.
The festival runs until the 30 June.
An RTÉ News report broadcast on 24 June 1985. The reporter is Mary Butler.