Sharing international music, dance, food and conversation at the Festival of World Cultures in Dún Laoghaire.
More than 100 events, ranging from music and dance to puppetry and art are taking place in the south Dublin town over the next three days. This is fourth time Dún Laoghaire has hosted the Festival of World Cultures.
Festival Director Jody Ackland describes the event as,
A celebration of what people bring into this country. It's important that people feel that they have a community and that they're accepted and that people actually appreciate the talents and what they bring.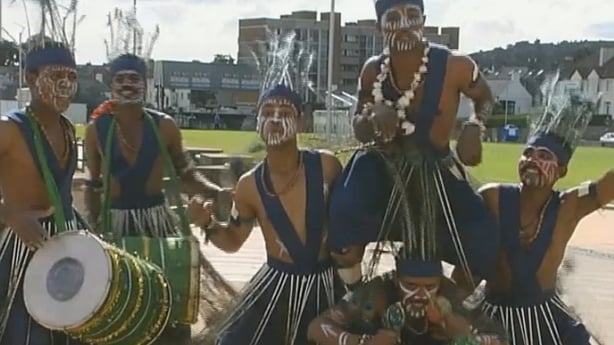 Performers from India at the Dun Laoghaire Festival Of World Cultures in 2004
In addition to performances, the festival includes crafts and food from around the globe, children's events and debates.
Nancy Nuñez from Chile has been living in Dún Laoghaire for the past three years and believes the festival helps to break down fear and barriers.
It's about music and culture and sharing.
Dublin hip hop group 'The Seas' are just one of the bands performing at the festival. Two members of the group are Irish born and the rest come from across the African continent, reflecting the diversity of cultures at the festival and how these cultures can come together.
An RTÉ News report broadcast on 27 August 2004. The reporter is Anthony Murnane.