The Liberties an old and historic neighbourhood of Dublin city.
The 'Tangents' film crew capture the streets and buildings of the Liberties in the spring of 1973.
One of the oldest parts of Dublin, the Liberties is located in the south west of the inner city. The name comes from the Anglo-Norman era when two separate tracts of lands were granted by the English King to the Archbishop of Dublin and the Abbey of Saint Thomas. They remained connected to the city but had their own laws, hence the term 'liberties'.
Today the Liberties is in the Dublin 8 postcode and covers the areas around James's Street and Thomas Street, Nicholas Street and Patrick Street, Cork Street and The Coombe, and Saint James's Hospital.
This is a neighbourhood with more than its fair share of historical buildings including Patrick Street and Saint Patrick's Park, Marsh's Library on Saint Patrick's Close, and the Iveagh Trust Play Centre on Bull Alley.
Residential streets also feature in the film as does the spire of the church of Saint Nicholas of Myra.
Dublin's oldest surviving Guild Hall is Tailors' Hall on Back Lane. Saint Catherine's Church on Thomas Street is where Irish nationalist and rebel leader Robert Emmet was executed in 1803.
The accompanying music is 'Ace and Deuce' by Horslips.
A miscellany of events, entertainment, opinions and personalities, 'Tangents' was first aired on Monday 25 September 1972 and ran until 1974. Tangents was presented by Cathal O'Shannon and Doireann Ní Bhriain on Monday, Wednesday, Thursday and Friday and by John O'Donoghue each Tuesday.
This episode of 'Tangents' was broadcast on 10 May 1973.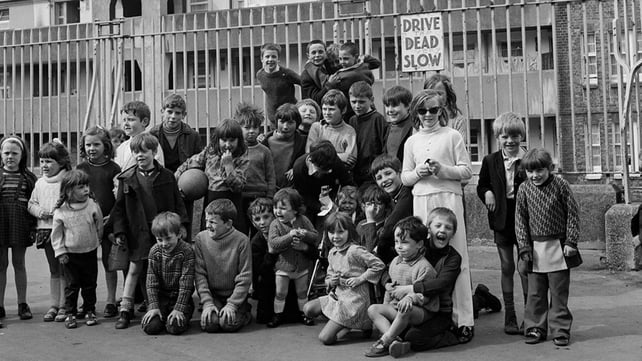 Children in the Oliver Bond flat complex, Dublin (1975)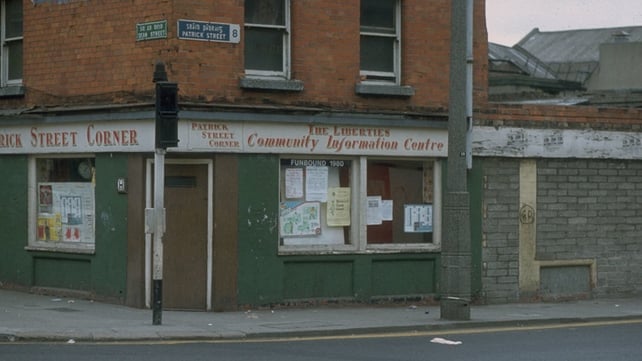 Liberties Community Information Centre, Patrick Street (1980)