Frawley's one of Dublin's oldest department stores, is to shut up shop after 115 years of trading.
he Liberties in central Dublin, Frawley's was opened by Cornelius and Bridget Frawley in 1892 to offer bargains to the poor. Over the decades it grew to become an institution in the area. However it now faces unsustainable competition from shopping centres and department stores. Ongoing redevelopment of the area means the property, worth approximately €10 million, holds more potential than the business does.
Forty part and full time staff, some who had worked at the shop for almost 40 years will lose their jobs, but Frawley's manager for the last 20 years Seán McEvoy accepts
Investors want return on their investment, customers want a better shopping environment, they want all the facilities in the one place, and they're entitled to that.
The news of the impending closure was met with widespread disappointment and sadness by people in the Liberties with one woman saying,
It will be very sad now to see it going.
The closure will also be felt outdoors on Thomas Street, where street sellers depend on passing trade for business.
Come Christmas and come Easter a lot of country people just come up for Frawley's...so like once Frawley goes now you won't have them people.
Frawley's will shut its doors for the last time on 2 June 2007, heralding the end of an era on Thomas Street.
An RTÉ News report broadcast on 16 March 2007. The reporter is Will Goodbody.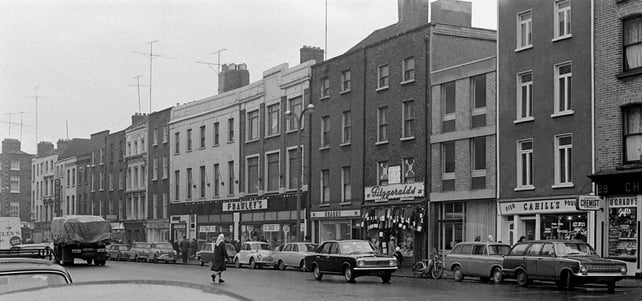 Frawley's on Thomas Street in Dublin city in 1967.