Retailer Roches Stores, founded in Cork has is to sell its nationwide chain of shops to the British retail giant Debenhams.
It took six years to rebuild the Roches Stores premises on Saint Patrick's Street after it was destroyed during the burning of Cork city in December 1920. The small furniture shop founded by William Roche went on to become one of the countries best known chain-stores with 11 shops trading throughout the country.
In a deal worth €29 million, the company will continue to own its properties in Dublin, Cork, Limerick, Tralee, Galway and Waterford, leasing them back to Debenhams. However, 90 jobs will be lost and the remaining 2000 employees will transfer to the new owners. Linda Tanham of Mandate Trade Union says
There's mixed reaction throughout the stores at the moment and it is an extremely anxious time.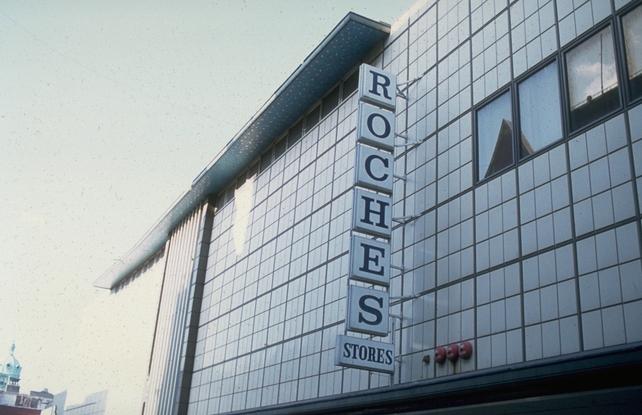 Roches Stores, Henry Street, Dublin
Shoppers are also dismayed at the news
I'm 65 years of age and as long as I'm in Cork they're here, I think it's a shame to see them going.
Another shopper sums up the sale as
The end of an era in Cork.
An RTÉ News report broadcast on 8 August 2006. The reporter is Jennie O'Sullivan.