Glen Campbell is in Dublin to play a show at the Carlton Cinema as part of his first European tour.
On his first visit to Ireland Glen Campbell talks to Doireann Ní Bhriain about the diversity in his career to date and the type of songs he performs.
To me, there's two kinds of music. There's good music and there's bad music.
Campbell currently has a hit record in the USA with the song 'I Knew Jesus (Before He Was A Superstar)' and for him success is always about the songs.
Without hesitation, he says his favourite composer is Jimmy Webb, who penned the songs 'By the Time I Get to Phoenix', 'Wichita Lineman', 'Honey Come Back' and 'Galveston', which were all hits for Campbell.
This episode of 'Tangents' was broadcast on 25 April 1973. The reporter is Doireann Ní Bhriain.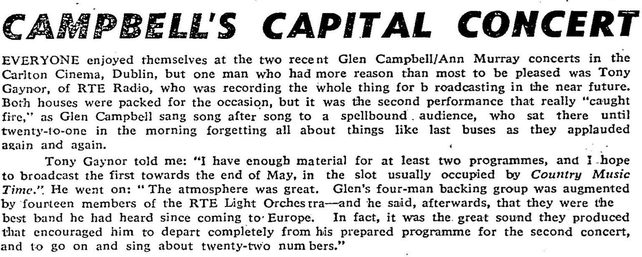 Review of Glen Campbell at The Carlton, RTÉ Guide 4 May 1973
A miscellany of events, entertainment, opinions and personalities, 'Tangents' was first aired on Monday 25 September 1972 and ran until 1974. Tangents was presented by Cathal O'Shannon and Doireann Ní Bhriain on Monday, Wednesday, Thursday and Friday and by John O'Donoghue each Tuesday.