American rock star Alice Cooper in Dublin for the first time as part of the 'Hey Stoopid' world tour.
Alice Cooper performs in Dublin for the first time. 'Video File' met the man himself to discuss hair, success, fans, humble beginnings, meeting his idols, alcoholism and playing Alice.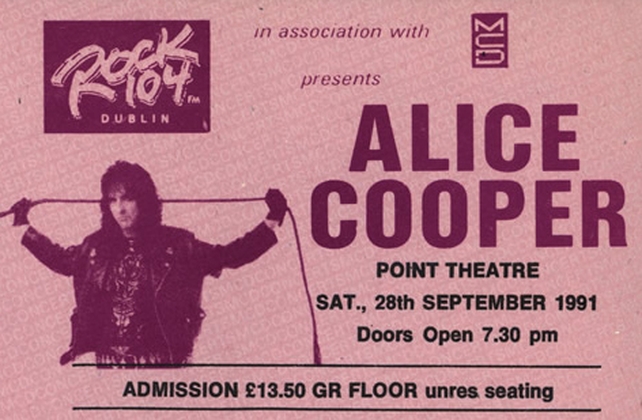 Alice Cooper Ticket, Point Depot Dublin (1991)
Despite his success Alice Cooper say he still is surprised at what songs work for fans.
The one that you're never expecting to be the hit is the hit.
21 albums on Alice talks about starting out as a struggling band back in 1971. While a lot of time has past he says
Alice has not mellowed one inch. In fact, if anything he's gone the other way. It's more vicious than ever. But that's Alice. That's the character.
Speaking of the character of Alice he says that he is very much a stage character who in the real world would be in an "insane asylum" or dead.
This episode of 'Video File' presented by Gareth O'Callaghan was broadcast on 6 December 1991.