American rock star Alice Cooper is in Dublin for the first time as part of the 'Hey Stoopid' world tour.
Alice Cooper discusses hair, success, fans, humble beginnings, meeting his idols, alcoholism and playing Alice.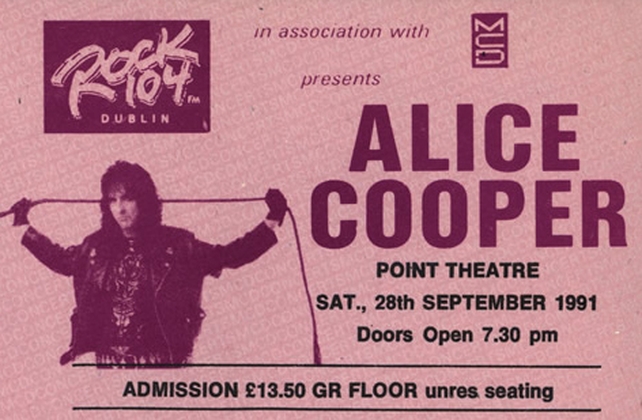 Alice Cooper Ticket, Point Depot Dublin (1991)
Despite his success Alice Cooper says he still is surprised at what songs work for fans.
The one that you're never expecting to be the hit is the hit.
21 albums on he recalls a struggling band back in 1971. While a lot of time has past he says,
Alice has not mellowed one inch. In fact, if anything he's gone the other way. It's more vicious than ever. But that's Alice. That's the character.
Alice is very much a stage character who in the real world would be in an "insane asylum" or dead.
This episode of 'Video File' was broadcast on 6 December 1991. The presenter is Gareth O'Callaghan.
'Video File' was a 30 minute programme featuring a different musical artist each week. The presenter was Marty Whelan. Marty was replaced as presenter by Gareth O'Callaghan in 1990. The programme ran until 1991.
The first episode of 'Video File' was broadcast on 16 November 1984 and featured Nick Kershaw.
Video File will take an in-depth look at bands, solo artists, duos etc., concentrating on only one per week. Mary will introduce videos of the guests and will have live interviews with them also.
RTÉ Guide 09 Nov 1984, p.5